The rainbow, a symbol of hope and renewal, is certainly having a moment in 2020. And during the coronavirus pandemic, the rainbow has recently become a beacon of hope, as well as denoting the gratitude felt by a nation towards our wonderful NHS doctors and nurses.
Of course, the rainbow has long since been symbolic of the pride and diversity represented within the LGBTQ+ gay community.
Rainbows can also be a brilliant wedding theme, inspiring dramatic décor choices and bringing colour and character to your day. What better than a kaleidoscope of colour to celebrate the union of two people who love one another.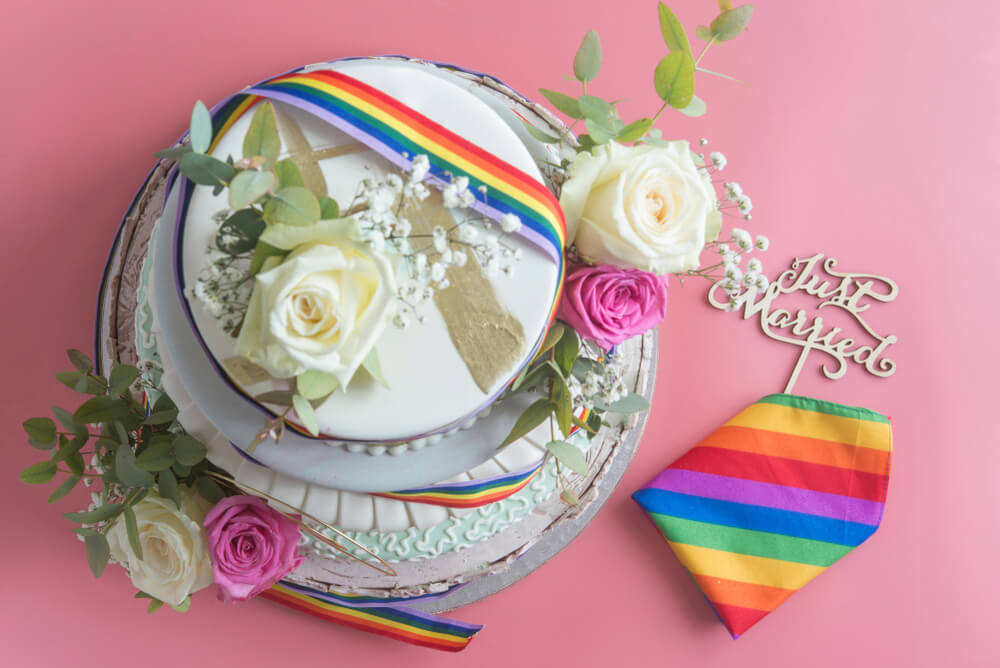 Colour also offers an opportunity to showcase personality and there are a multitude of ways to bring different colours into your day.
So, whether it's rich ruby red, or a sophisticated deep blue, Liz Taylor of wedding planners the Taylor Lynn Corporation (TLC) has some colourful suggestions on how you to best incorporate a rainbow of colour into your wedding.
Hidden Colours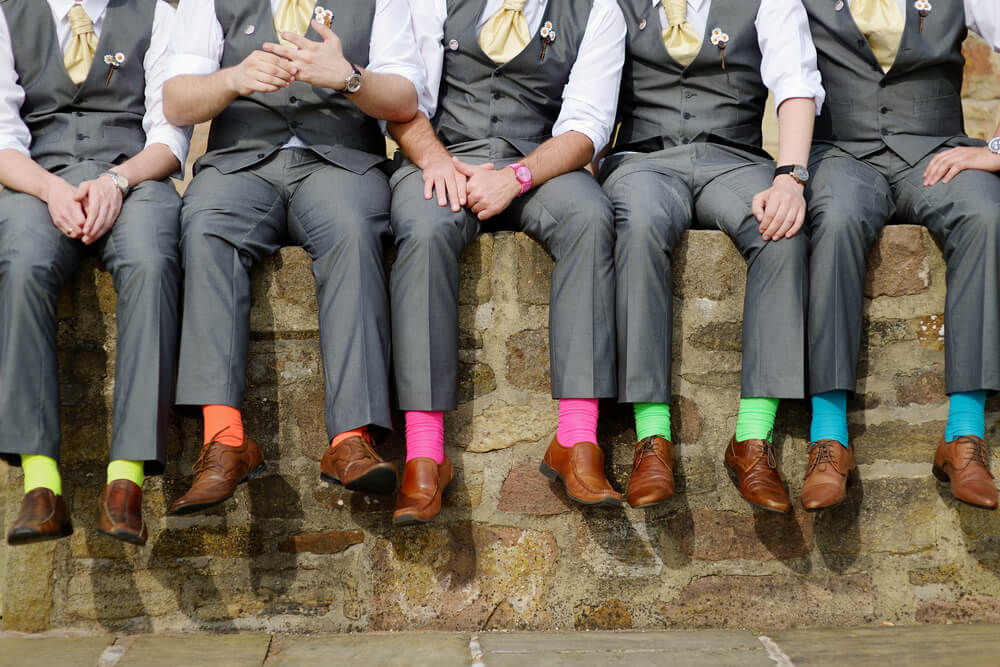 Your rainbow influence doesn't have to be in your face and over the top.
Stylish and subtle, colour can be very effective when brought in in ways that are surprising and understated.
An upturned collar, the reverse of an invitation, socks under a suit, a bright pair of shoes, jacket linings, or the underside of a tablecloth or napkin.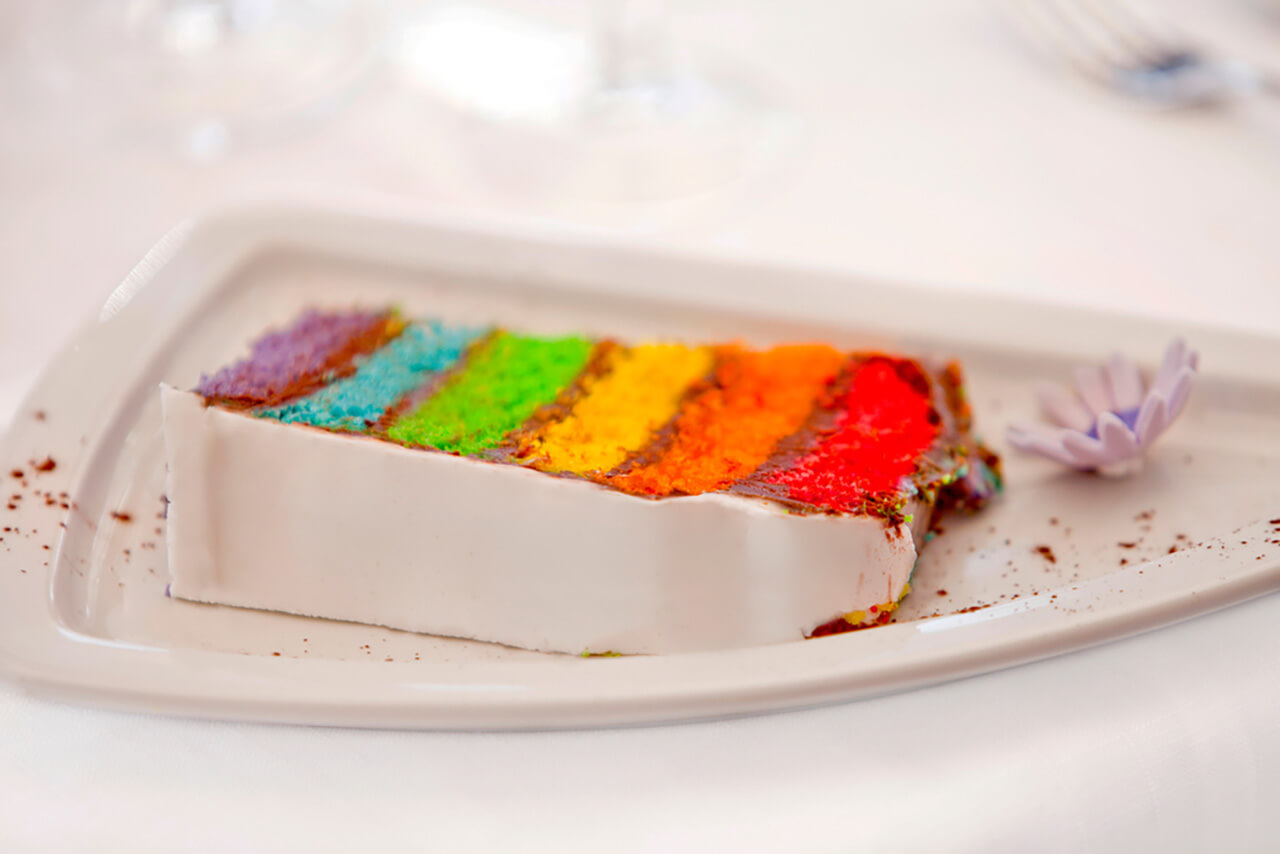 Colour as a hidden detail gives off that designer edge and is a way of delighting your guests with the unexpected.
Imagine cutting into your wedding cake to reveal rainbow layers and fountain of brightly coloured sweets or kneeling at the alter to reveal rainbow souls on your shoes.
Or on a grander scale releasing multicoloured smoke into the air as you complete your vows. However, you reveal your rainbow, remember the element of surprise is key here.
Whimsical rainbow weddings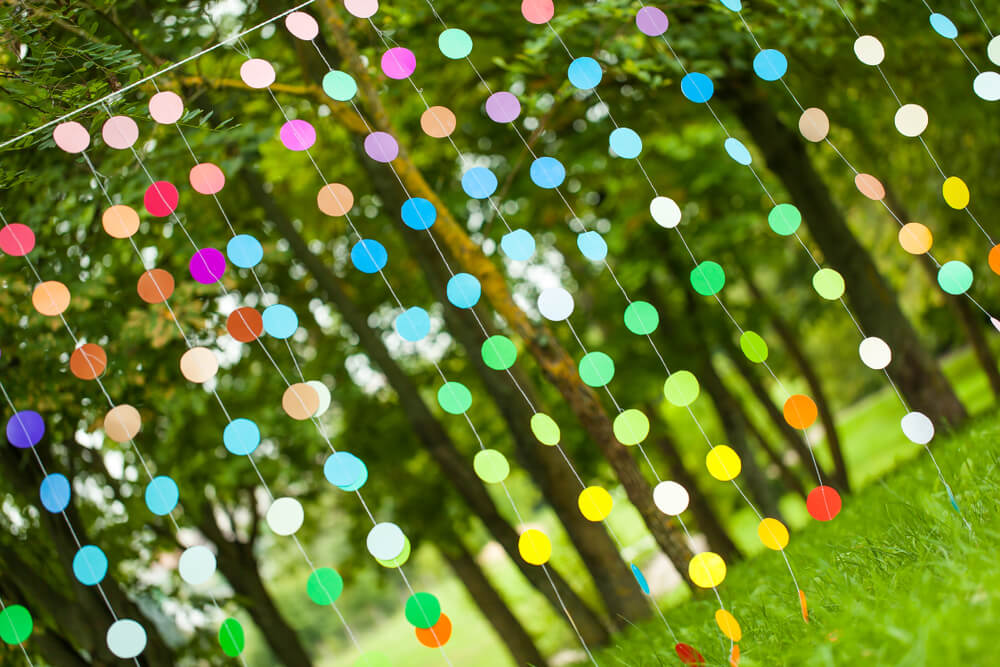 Colour, when used in certain ways can create a bohemian style of wedding décor that is truly magical.
A cascade of multicoloured streamers suspended over coloured tables, outdoor weddings with brightly painted furniture, coloured tablecloths and ornaments hung in the trees overhead.
The key to keeping it stylish is to use similar tones of colour to prevent it from looking brash or worse, like a kid's birthday party.
Taste the rainbow
A brilliant way of bringing colour into a whimsical wedding day is through the food, especially if you want to incorporate the grazing table trend that has been gaining traction in recent years.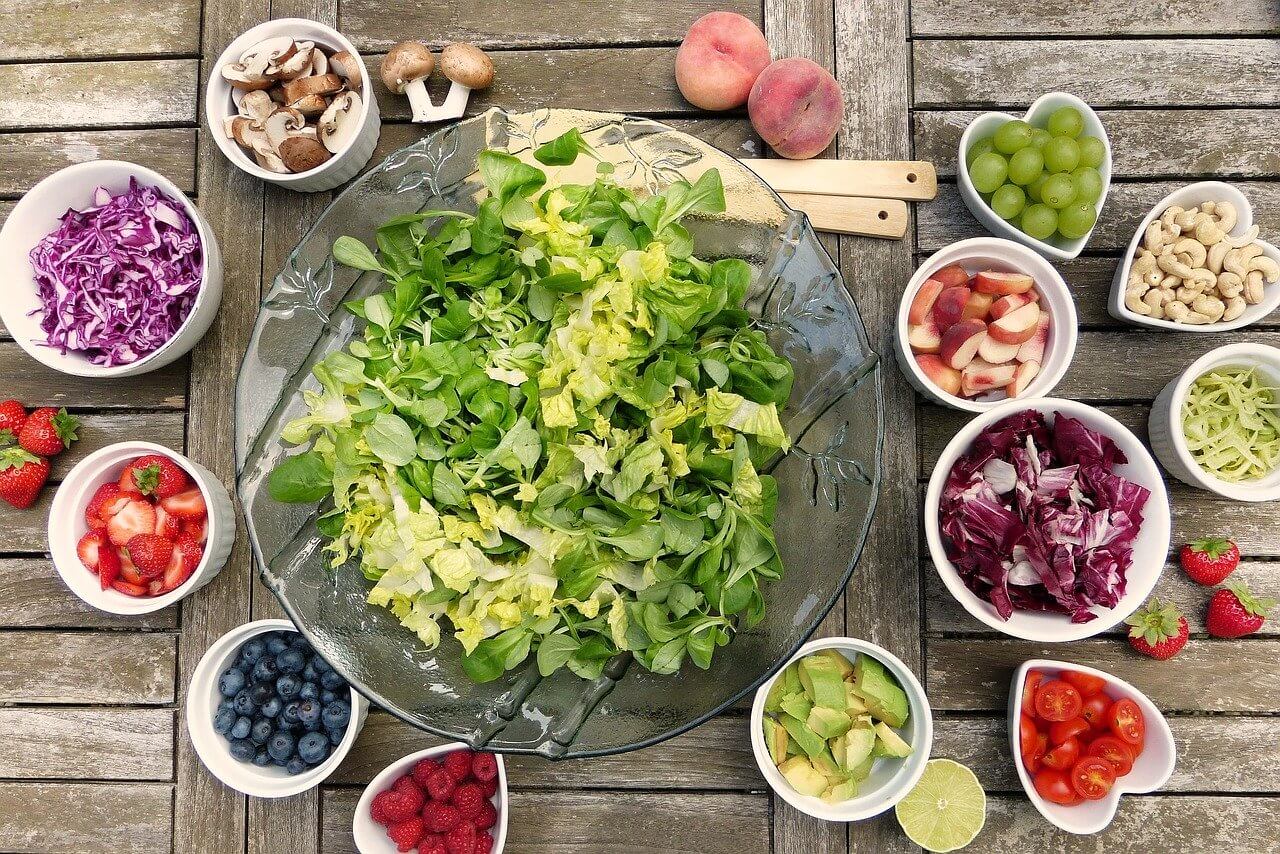 Pile up fruits, meats, breads and cheeses amid a display of flora and fauna for a feast that delights the eyes and the taste buds.
I would do this by grouping similar colours together across the whole of the table to create an ombre rainbow effect. Simply stunning!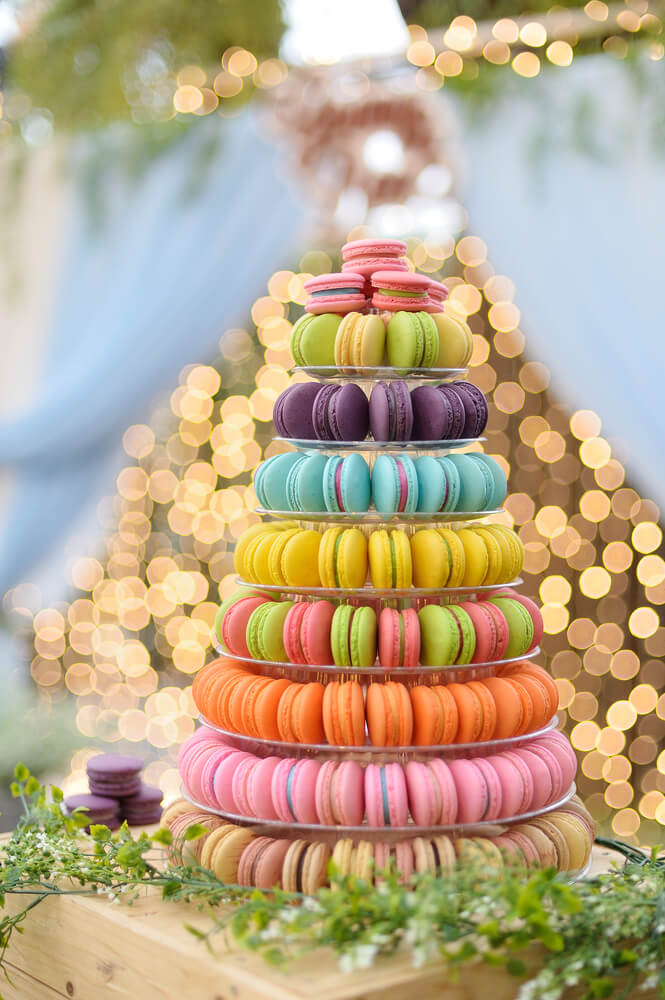 Other ways to use the rainbow theme in food include brightly coloured sweetie stations or delicate macaroons baked in every colour then laid out in a perfect rainbow.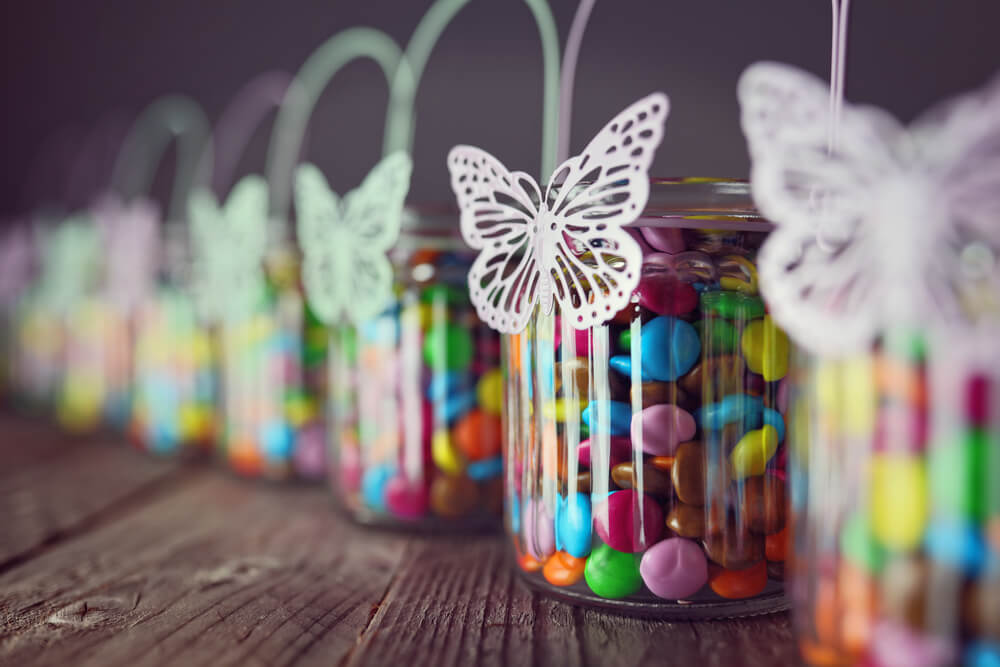 Rainbow cocktails are brilliant too or send each table a paddle full of rainbow shots at the end of the meal.
But there's more.
And you don't have to incorporate every colour of the rainbow into every aspect of the day.
Here Liz has some further ideas for each colour of the rainbow, so simply choose your individual favourite and use this as the predominant colour for the day.
RED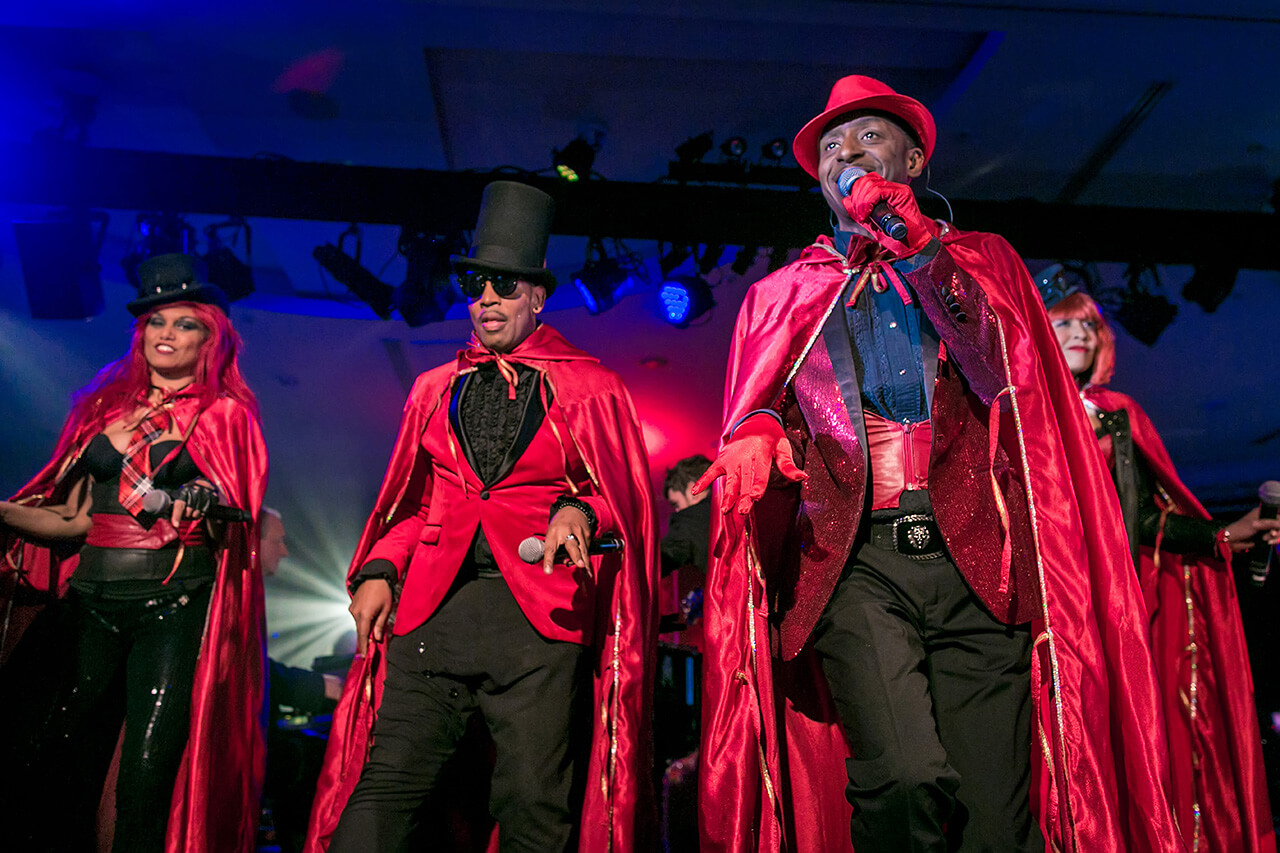 Red, the colour of love, traditionally denotes love, passion and strength.
No wonder then that it's a perennially a popular choice for wedding colour palettes.
A loved one's heart is often through their stomach, so the saying goes. And a brilliant way to incorporate this romantic hue into your wedding day is by integrating it within the food and drinks you serve.
For a super starter, a traditional red pepper and tomato soup is rich in colour and taste.
To finish, create a show-stopping dessert table filled with a feast of 'rouge' delicacies, ranging from red velvet cakes with smooth buttercream, to mini raspberry cheesecakes decorated with a berry coulis and an array of fresh berries.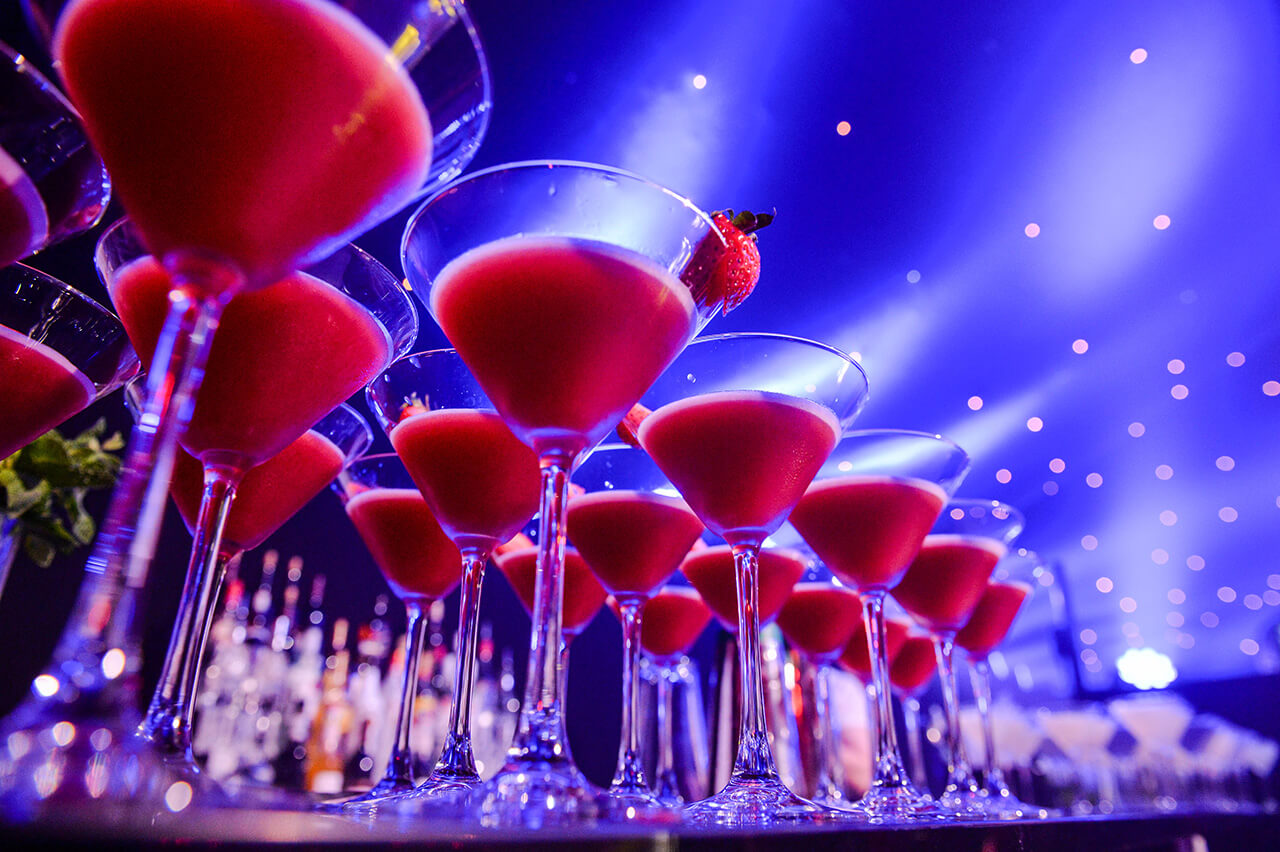 Wash it all down with a signature cocktail featuring a pop of red such as the Lillete Rosé take on the Hugo with lemon tonic, elderflower liqueur and floating raspberries.
If you prefer to keep it simple a splash of cranberry juice added to your favourite champagne garnished with berries is a refreshing crowd-pleasing. Or offer a classic ruby red Pinot Noir with dinner for guests to enjoy!
Also think a little theatrical with red. We dressed our sensational wedding entertainment for one couple in the colour, which created huge impact and drama.
YELLOW
Yellow is the colour of happiness, enlightenment, optimism and creativity. It's ideal for springtime or hazy summer weddings, giving an uplifting ambiance and lending a pop of colour to a neutral palette.
For fresh summery décor, layer up the tables with gorgeous yellow-edged charger plates and matching crockery.
Add a pale-yellow napkin and gold cutlery to complement, then complete the table centres by adding lemons and peonies.
A forsythia and witch-hazel arch will act as the perfect top table backdrop or a gorgeous photo opportunity for guests to enjoy.
If you are feeling brave why not drape the table with a beautiful yellow tablecloth and fill it with yellow candles and dried yellow meadow flowers.
GREEN
Green is a colour that promotes a deep connection to nature and is brilliant for weddings with a sustainable and eco-friendly theme.
Take a leaf from the Duchess of Cambridge and line your aisle with an avenue of trees that can be re-potted at a later date or given to guests as a token of the day.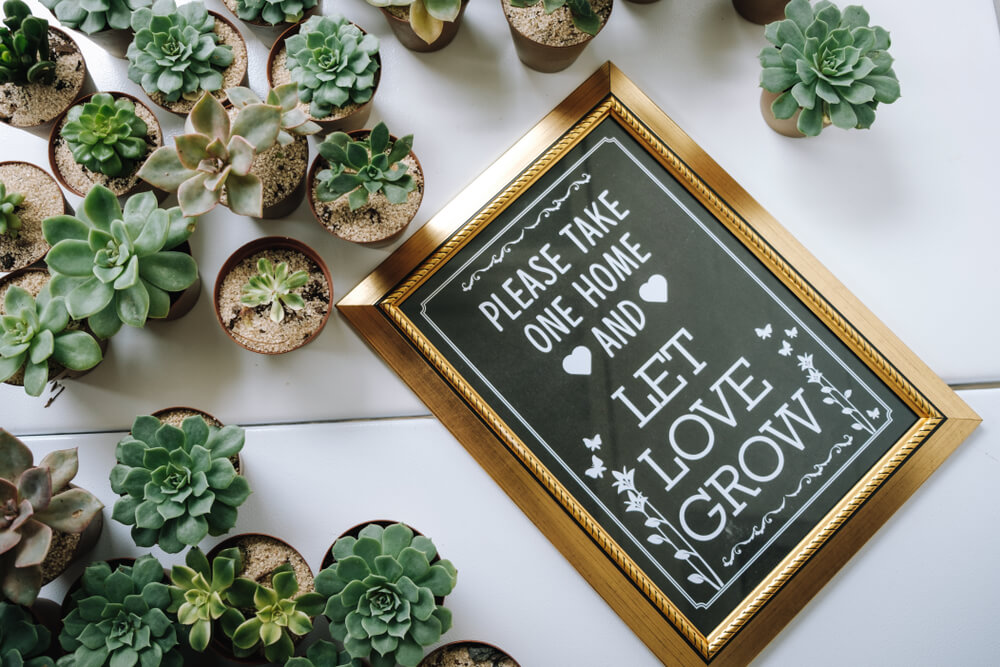 This idea can be used in table décor too, building up centrepieces of potted green shrubbery. Or give each guest their own seeds or plant as a favour to take away and cultivate.
Couples interested in a subtle use of green may want to consider wedding locations that provide a lush, natural green backdrop.
Popular locations include botanical gardens with low, verdant trees such as trailing oaks or weeping willows, private estates with immaculately manicured lawns and hedge mazes, or golf courses – which comprise of acres of green land.
An abundance of foliage can be very easily be incorporated into dramatic room decor to carry the theme through.
ORANGE
The colour orange is associated with joy, creativity, health, enjoyment, balance, sexuality and freedom – so could there be a better colour theme for a wedding?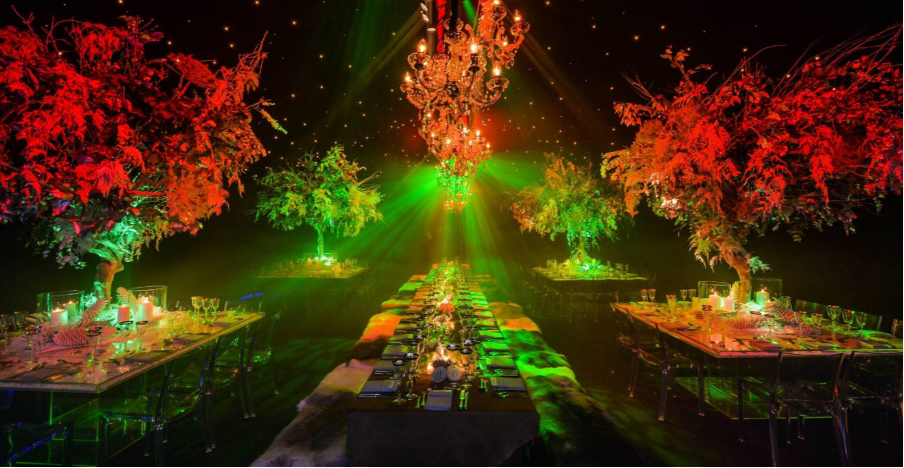 Heading towards autumn, nature is at its most beautiful so why not showcase the array of orange hues found in seasonal produce with bountiful table centres.
Arrange fruit, nuts, vegetables and foliage artistically and the effect is lavish and abundant, ideal for a rustic wedding when teamed with natural wood.
Another way to incorporate nature and orange is by switching evergreens for golden foliage.
It's a decorative statement that can be extended to table décor too, providing both height and theatre to centrepieces. Dining under a canopy of crimson and amber leaves is simply enchanting.
PURPLE
Purple is one of my favourite colours for a wedding day, because there is such an array of shades to work with.
Amethyst, violet and plum look lovely all year-round, whereas aubergine, maroon and merlot shades will wow in the autumn or for winter weddings.
To make purple really pop, choose a dramatic purple tablecloth then mingle in some orange flowers, these two are complementary colours meaning they will shine especially bright when used next to one another.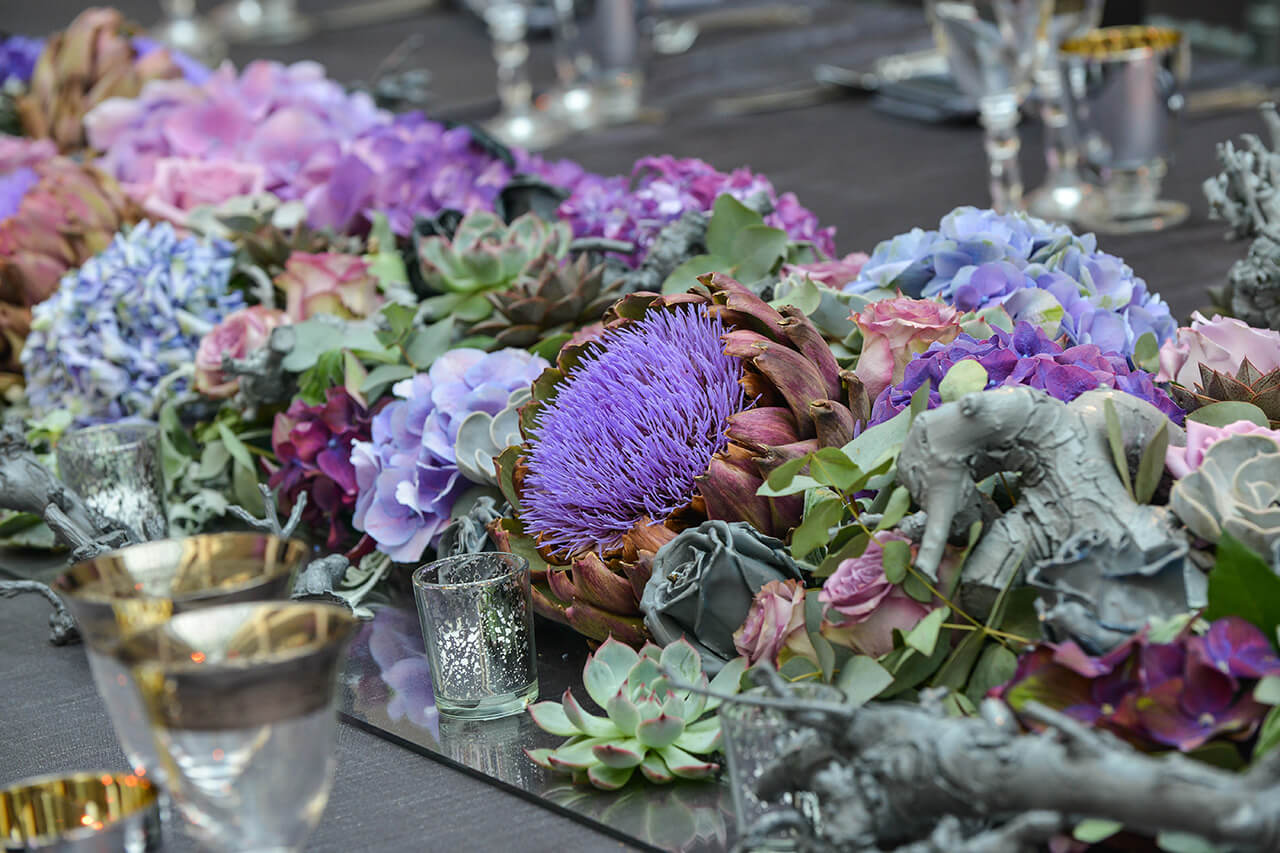 One of my favourite ways to work with purple is to create an ombre effect. Fifty shades of purple – taking the deepest purple right through to the palest lilac as you make your way down a large banquet style table.
Purple is also one of the most popular colours for bridesmaid dresses. It's a regal hue that works on all skin tones and is flattering year-round.
Choose contrasting tones for added drama – a palette of dark plum bridesmaid dresses mingled amongst lighter lavender shades will curate a look that is rich and dramatic.
If you want a more symmetrical effect with real impact, then have your bridesmaids wear identical floor-length dresses in a vivid ultra-violet shade.
BLUE
"Something old, something new, something borrowed, something blue."
The old English rhyme has been inspiring brides to incorporate vintage details and blue-hued accessories into their wedding day for years.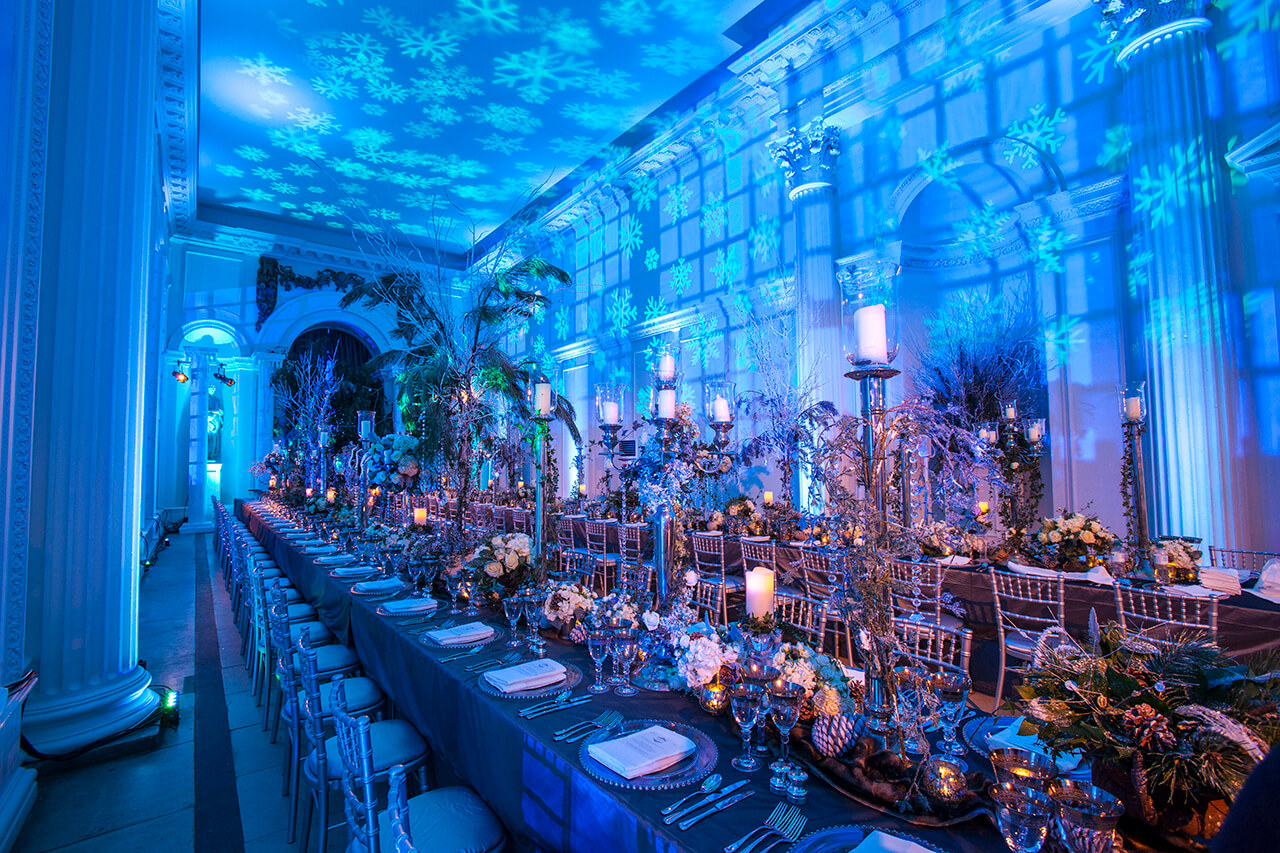 If you're feeling blue as a colour scheme for your wedding then a Winter Wonderland wedding is one of the most dramatic ways to do this – thanks to the beautiful colours and décor, elevated with an element of fantasy and drama.
Set the scene for a sophisticated day when you send out the invitations by using a midnight blue card and foil the text in silver. Continue the theme by investing in draping and dramatic lighting.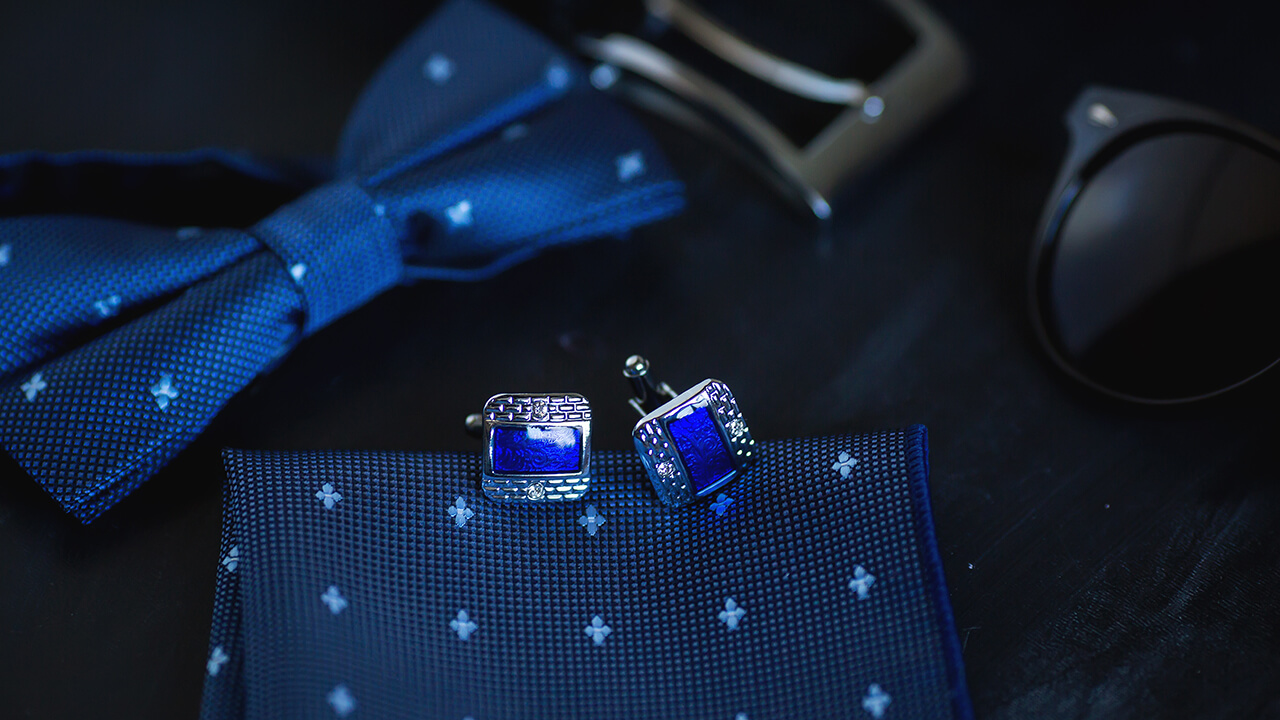 You can play on the colour palette by combining delicate baby blue, shades of grey and silver, periwinkle, navy blue and white to create a dazzling backdrop.
Colour me beautiful
If you love the colour but you're unsure how to bring it into your wedding day, why not choose them all? We've picked out some gorgeous rainbow-themed items below to get you started.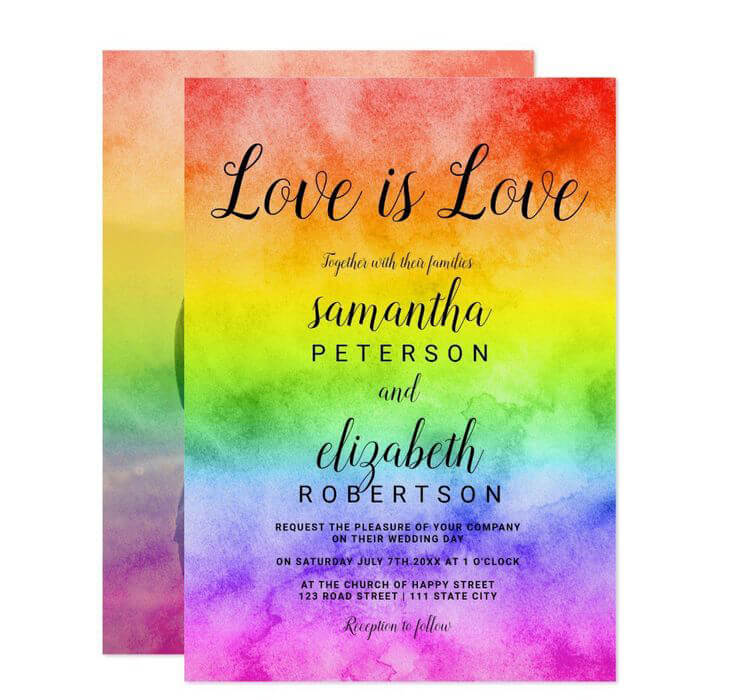 Rainbow wedding stationary – for an expensive look try to keep your rainbow muted and delicate when it comes to rainbow wedding stationary.
Watercolours are a great way to 'water' down the pigment without losing the impact, try this rainbow design with gold foil detail brings the rainbow without the gaudiness.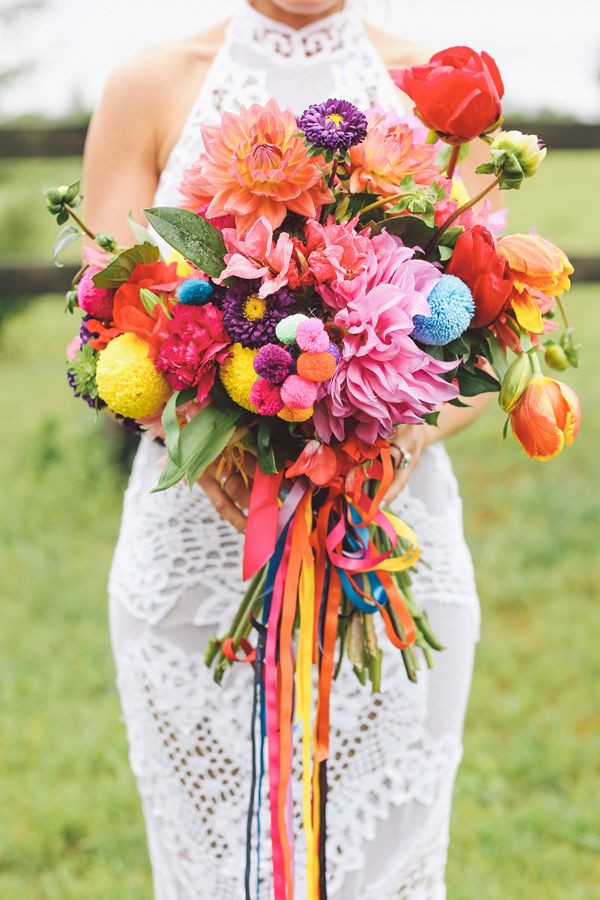 Rainbow wedding bouquet – for those wanting to go all out for a rainbow wedding bouquet there is such a thing as a rainbow rose which contrary to popular belief cannot be grown from seed.
The petals are artificially coloured by splitting the stem and drawing the colour up into the petals – clever stuff and they make for a dramatic bouquet!
Alternatively (and our preference), try something like this gorgeous Peruvian style wedding bouquet – choose flowers of different size and length then bind them together with colourful ribbon and pom poms!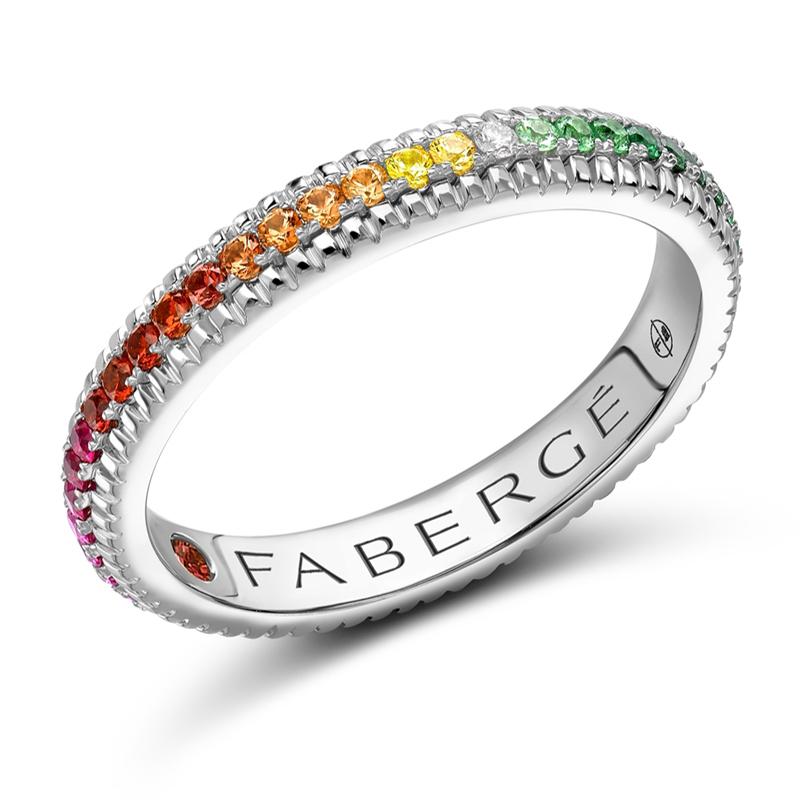 Check more information about the 'Faberge 18ct White Gold Multi-Stone Rainbow Fluted Band Ring' on CWSellors.co.uk.
Don't forget to use the coupon 'CWS10' for 10% off all items.
Rainbow wedding ring – jewellery is a subtle way of bringing a rainbow into your wedding day and can be found at all different price points.
From rainbow necklaces for a flower girl gift to pins, brooches, bracelets and earrings for the bridal party.
Or how about a rainbow wedding ring with coloured gemstones like this stunning piece from Faberge.
And of-course to infuse your day with an unforgettable rainbow theme, the TLC team is always on hand to help – visit www.tlc-ltd.co.uk (TW, IG, FB) for more information.