We all know that weddings are expensive, so which corners can you cut without any negative impact? Luxury wedding planners Bruce Russell and Isabel Smith share their top 10 tips on where to splurge and where to save…
1. The Detail
Save by focusing on the little things: For most couples, a wedding day is the most public declaration of their love and as such deserves to be a real celebration. But we also need to marry the desire to create something spectacular with some practicalities – namely budgets. My first piece of advice is to set a realistic budget from day one and stick to it; prioritise the areas that really matter to you (be it food, flowers or entertainment) then look to make savings in other places, including limiting the guest list to allow a greater per-head spend.
For me, weddings that have the greatest wow factor are those which engage all of the senses to offer a truly immersive experience for guests. If you're planning a wedding, focus on the details – and remember, they needn't cost the earth. I'm talking about not simply focusing on the day itself, but more the fact that you're making memories so think about how a particular scent, piece of music or taste might transport you and your guests back to this magical moment for years to come. – BR
Image – Blenheim Palace
2. Florals
Splurge on dramatic florals: I am a huge fan of table centrepieces being a mix of different heights – it makes the room look so much more dynamic than everything being at one level. Aim to go big (both on height and budget) on around a third of your tables to create the right look. Alternatively, if your venue allows it and has the head room, opt for a floral installation well above the tables for the real wow factor. – IS
Save on aisle decoration: The ceremony is the most important part of the day, it is often the shortest too so when looking for areas to save, can those expensive pew ends or anything lining the aisle be kept more minimal so that the focus is set on keeping guests attention looking forward. – IS
3. Tablescaping
Splurge on stunning floral displays: Tablescaping is one of the big buzzwords for the wedding industry and deployed well it can really lift the theatre of the day and provide the ideal 'set' for some creative catering on the food and drink front.
Splurge on stunning floral displays, they are well worth some investment. Not only are they an aesthetic cornerstone to any wedding, but they can also enhance the ambience with an evocative scent (either from the flowers themselves or supplemented by some strategically placed candles). – BR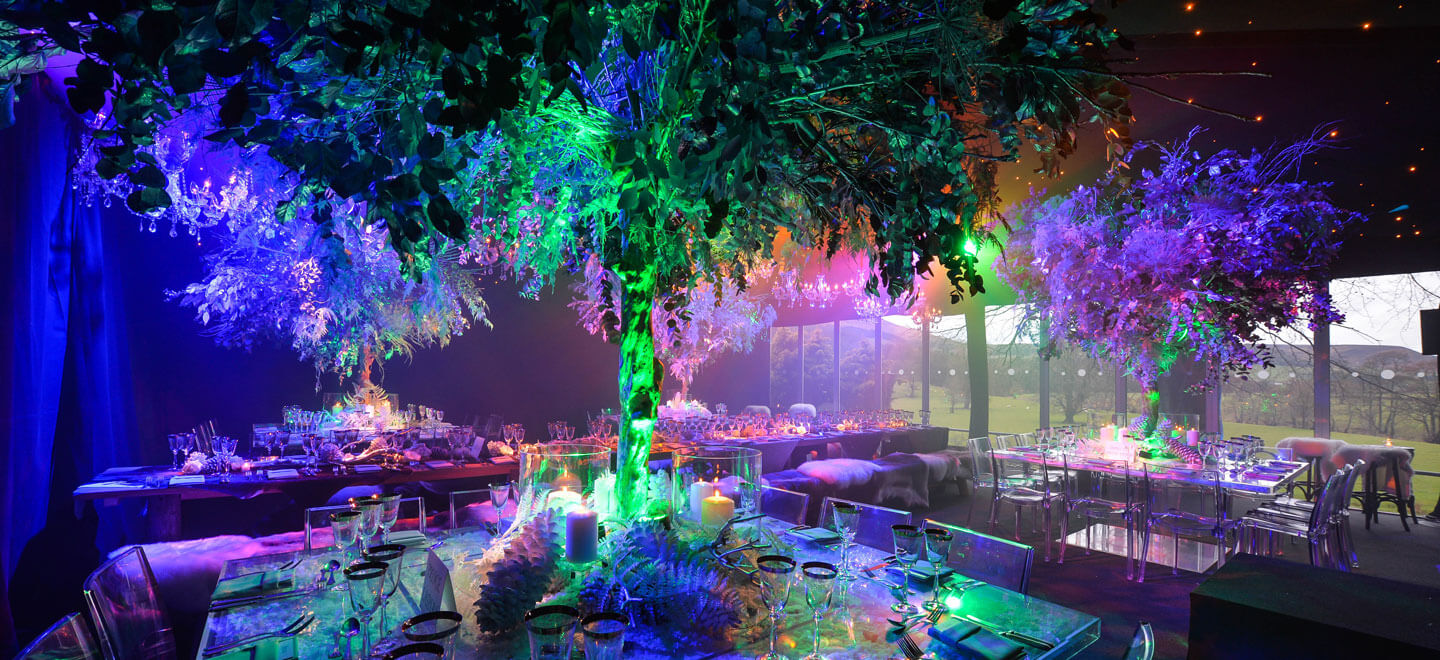 Save on wedding favours: if you want to save some money elsewhere why not hold fire on offering wedding favours to guests who will reap the benefits when it comes to the wider look and feel of the occasion. – BR

Image, Taylor Lynn Corporation
4. Lighting
If you save on a venue, splurge on the lighting:
Couples often fixate on the venue and of course the backdrop to the wedding plays an important part in proceedings. But if you're on a tight budget then look at the art of the possible. Sure, it might not be the fairytale castle of your dreams, but a beautifully decorated marquee set in gardens can be transformed to be just as special at a fraction of the cost. One area where you simply can't scrimp is on the 'production' for the day, particularly lighting . This is often overlooked by couples but is worth its weight in gold – without good lighting, it doesn't matter how jaw-dropping the décor and design, nobody will see them in their full glory. Not even a maestro of photography can work miracles in the dark! – BR
I am all about the lighting throughout your venue. How a room is lit can change the whole atmosphere of the event. I can't recommend leaving space in the budget for some creative lighting enough! – IS
5. Cake
Splurge on the presentation: Give some thought to how your cake will be presented – not just the design of the cake itself but the stand it sit atop, the cloth underneath it, anything else that might be on the table and how it is lit. These details needn't cost the earth individually but by giving them some attention and a little from the budget, you can make your cake a real show-stopper. – IS
Image, Aaron & Phil's wedding, Bodelian, Oxford. Image by Stu Heppel
Save by keeping wedding toppers simple: Bespoke cake toppers so often detract from the fabulous design you've worked out with your cake maker and worse, can date so quickly in the photos. Save your pennies for something more important by having something simple like your initials calligraphed in glitter, fresh flowers, or nothing at all. – IS
6. Stationery
Splurge on invitations: Stationery is often overlooked by couples focusing exclusively on the wedding day itself, but the quality of the save-the-date or formal invitation is the first impression that your guests will receive and needs to set the right tone. It's worth paying a little more for well-designed, weightier invites than sending out something that looks sloppy and slap-dash! – BR
L-to-R: Invitation by Lovepop; Invitation by Pemberley Fox.
7. Catering
Splurge on the canapés: Don't skimp on those canapés people! Even though you will be busy greeting all your guests and having photos taken after the ceremony, there's a lot of hanging around time for your guests. Keep them well fed and watered to avoid a dip in the mood! – IS
Save by keeping evening food simple: Evening catering is all about soaking up booze – the time to impress has passed. Keep it simple and comforting; cheesy chips and bacon butties are a classic for a reason! – IS
Simple seaside themed buffet – image via The Gallivant
8. Planners
Splurge and save on a good wedding planner: It might sound like an additional expense for cash-strapped couples looking to tie the knot but trust me, a good planner will save money in the long run. Not only will they inspire, counsel and undertake much of the logistical legwork but they'll bring their experience (and contacts) to bear in ensuring the budget is optimised, providing an objective sounding board along the way. – BR
9. Transport
Splurge on guest transport: Whilst it isn't traditional or expected to provide transportation for your guests, if budget allows then offering bus transfers from one central hotel/location to the ceremony, on to the reception, and back at the end of the night will be strongly appreciated by your boozing guests. – IS
Save by cutting transport times: Having a civil ceremony at the same location as your reception? Then no-one will see you arrive so save the cash you might have spent on a fancy bridal car and just book a spacious cab. – IS
10. External Suppliers
Save by keeping your supplier list to a minimum: The more hire/serviceware companies you work with, the more delivery charges you are going to have to pay. Aside from your main furniture (which nobody wants to be lugging around), it might be cheaper to rent a van and get a kind cousin/uncle/groomsman collect and drop off your gear before and after the wedding if your venue will let you store it for a few days. – IS
Get Details
Bruce Russell is one of the most sought after wedding planners in London. He has worked in premium end hospitality for more than 15 years and currently runs his an exclusive wedding services at London's Savoy. bybrucerussell.com.
Isabel Smith specialises in luxury weddings that focus on beautifully curated design that isn't ostentatious, but that are remembered for all the right reasons. isabelsmithweddings.co.uk.
Image credit: main image, Hampton Court Palace (wedding venue)