Need some wedding quote ideas for your wedding speech?
We've compiled this list of what we think are some of the best same-sex wedding quotes around. Let us know if they help you when you're writing your vows or any share wedding quotes you love with us.
Fiction is a fascinating lens through which to see real life. It describes and explores real experiences and perspectives in a way you might not otherwise encounter or be familiar with.
Romantic and poetic words of literature
The romantic and poetic words of literature can often be the perfect way to describe and encapsulate real life, real marriage, and real love and, with that in mind, we bring together 25 inspiring wedding quotes from LGBTQ+ fiction, 5 films inspired wedding quotes, 15 literature-inspired wedding quotes and 2 extra-bonus, just because it's a special day.
Queer by William S. Burroughs
'I might well destroyed myself, ending an existence which seemed to offer nothing but grotesque misery and humiliation.

Nobler, I thought, to die a man than live on, a sex monster.

It was a wise old queen–Bobo, we called her–who taught me that I had a duty to live and bear my burden proudly for all to see, to conquer prejudice and ignorance and hate with knowledge and sincerity and love.'
The Color Purple by Alice Walker
'I am an expression of the divine, just like a peach is, just like a fish is.

I have a right to be this way…

I can't apologize for that, nor can I change it, nor do I want to…

We will never have to be other than who we are in order to be successful…

We realize that we are as ourselves unlimited and our experiences valid.

It is for the rest of the world to recognize this if they choose.'
Maurice by E.M. Forester
'Did you ever dream you had a friend, Alec?

Someone to last your whole life and you his.

I suppose such a thing can't really happen outside sleep.'
The Picture of Dorian Gray by Oscar Wilde
'Those who find ugly meanings in beautiful things are corrupt without being charming.

This is a fault.

Those who find beautiful meanings in beautiful things are the cultivated.

For these, there is hope.'
A Little Life by Hanya Yanagihara
'And so I try to be kind to everything I see, and in everything I see, I see him.'
Carmilla by Sheridan le Fanu
'You will think me cruel, very selfish, but love is always selfish; the more ardent the more selfish.

How jealous I am you cannot know.

You must come with me, loving me, to death; or else hate me, and still come with me, and hating me through death and after.

There is no such word as indifference in my apathetic nature.'
Oranges are Not the Only Fruit by Jeanette Winterson
'There are many forms of love and affection, some people can spend their whole lives together without knowing each other's names.

Naming is a difficult and time-consuming process; it concerns essences, and it means power.

But on the wild nights who can call you home?

Only the one who knows your name.'
The Price of Salt by Patricia Highsmith
'It would be Carol, in a thousand cities, a thousand houses, in foreign lands where they would go together, in heaven and in hell.'
Giovanni's Room by James Baldwin
'People can't, unhappily, invent their mooring posts, their lovers and their friends, any more than they can invent their parents.

Life gives these and also takes them away and the great difficulty is to say "Yes" to life.'
In Search of Lost Time by Marcel Proust
'If a little dreaming is dangerous, the cure for it is not to dream less, but to dream more, to dream all the time.'
The Mysteries of Pittsburgh by Michael Chabon
'My heart was simultaneously broken and filled with lust, I was exhausted, and I loved every minute of it.

It was strange and elating to find myself for once the weaker.'
Angels in America by Tony Kushner
'You'll find, my friend, that what you love will take you places you never dreamed you'd go.'
A Single Man by Christopher Isherwood
'Think of two people, living together day after day, year after year, in this small space, standing elbow to elbow cooking at the same small stove, squeezing past each other on the narrow stairs, shaving in front of the same small bathroom mirror, constantly jogging, jostling, bumping against each other's bodies by mistake or on purpose, sensually, aggressively, awkwardly, impatiently, in rage or in love – think what deep though invisible tracks they must leave, everywhere, behind them!'
Thus Spoke Zarathustra by Frederich Nietzsche
'You have your way.

I have my way.

As for the right way, the correct way, and the only way, it does not exist.'
Speak no Evil by Uzodinma Iweala
'I'm late, the kind of late that suggests I have no regard for the emotional health of my Nigerian parents who probably think I've been kidnapped by the enemies of progress.'
Aristotle & Dante Discover the Secrets of the Universe by Benjamin Alire Saenz
'The summer sun was not meant for boys like me. Boys like me belonged to the rain.'
I'll Give You the Sun By Jandy Nelson
'Meeting your soul mate is like walking into a house you've been in before – you will recognize the furniture, the pictures on the wall, the books on the shelves, the contents of drawers.

You could find your way around in the dark if you had to.'
Annie on my Mind by Nancy Garden
'There's a Greek legend—no, it's in something Plato wrote—about how true lovers are really two halves of the same person. It says that people wander around searching for their other half, and when they find him or her, they are finally whole and perfect.

The thing that gets me is that the story says that originally all people were really pairs of people, joined back to back and that some of the pairs were man and man, some woman and woman, and others man and woman.

What happened was that all of these double people went to war with the gods, and the gods, to punish them, split them all in two.

That's why some lovers are heterosexual and some are homosexual, female and female, or male and male.'
If Not Winter by Sappho
'You came and I was crazy for you
and you cooled my mind that burned with longing'.
The Left Hand of Darkness by Ursula K. Le Guin
'Truth is a matter of the imagination.'
Rubyfruit Jungle by Rita Mae Brown
'I had never thought I had much in common with anybody. I had no mother, no father, no roots, no biological similarities called sisters and brothers.

And for a future I didn't want a split-level home with a station wagon, pastel refrigerator, and a houseful of blonde children evenly spaced through the years.

I didn't want to walk into the pages of McCall's magazine and become the model housewife.

I didn't even want a husband or any man for that matter.

I wanted to go my own way.

That's all I think I ever wanted, to go my own way and maybe find some love here and there.

Love, but not the now and forever kind with chains around your vagina and a short circuit in your brain. I'd rather be alone.'
Brokeback Mountain by Annie Proulx
'There was some open space between what he knew and what he tried to believe, but nothing could be done about it, and if you can't fix it you've got to stand it.'
Bad End by A. M. Blaushild
'You're different. I get it; me too.

Different doesn't always mean unique, or special, or better, sometimes it means worse, weaker, unstable.

It means that, but it doesn't define every aspect of your life'.
The Seventh Pleiade by Andrew J. Peters
'Find the Seventh Sister,
And the girl shall be,
Your spiritual guardian,
For eternity.'
When I Heard at the Close of the Day by Walt Whitman
And when I thought how my dear friend my lover was on his way coming, O then I was happy,
O then each breath tasted sweeter, and all that day my food nourish'd me more, and the beautiful day pass'd well,
And the next came with equal joy, and with the next at evening came my friend,
And that night while all was still I heard the waters roll slowly continually up the shores,
I heard the hissing rustle of the liquid and sands as directed to me whispering to congratulate me,
For the one I love most lay sleeping by me under the same cover in the cool night,
In the stillness in the autumn moonbeams his face was inclined toward me,
And his arm lay lightly around my breast – and that night I was happy.
Romantic Wedding Quotes From Film & Literature
For some writing wedding vows comes easily and the words flow from the pen, but for others, it can be trickier.
One way to make your vow-writing easier is to include quotations that resonate or mean something special to you.
You might find a passage you love in your favourite book or a line from the first song you span round together to; but if you're stuck for inspiration, take a look at some of our favourite romantic wedding quotes from film and literature…
Romantic Wedding Quotes From Film
Blue is the Warmest Colour (2013)
"I have infinite tenderness for you. I always will. My whole life."
Brokeback Mountain (2005)
"Tell you what… the truth is… sometimes I miss you so much I can hardly stand it."
Carol (2015)
"My angel. Flung out of space."
Weekend (2011)
"I couldn't be more proud of you if you were the first man on the moon."
Imagine Me and You (2005)
"I think you know immediately. As soon as your eyes meet… then everything that happens from then on proves that you were right in the first moment. When you suddenly realise you were incomplete and now you are whole."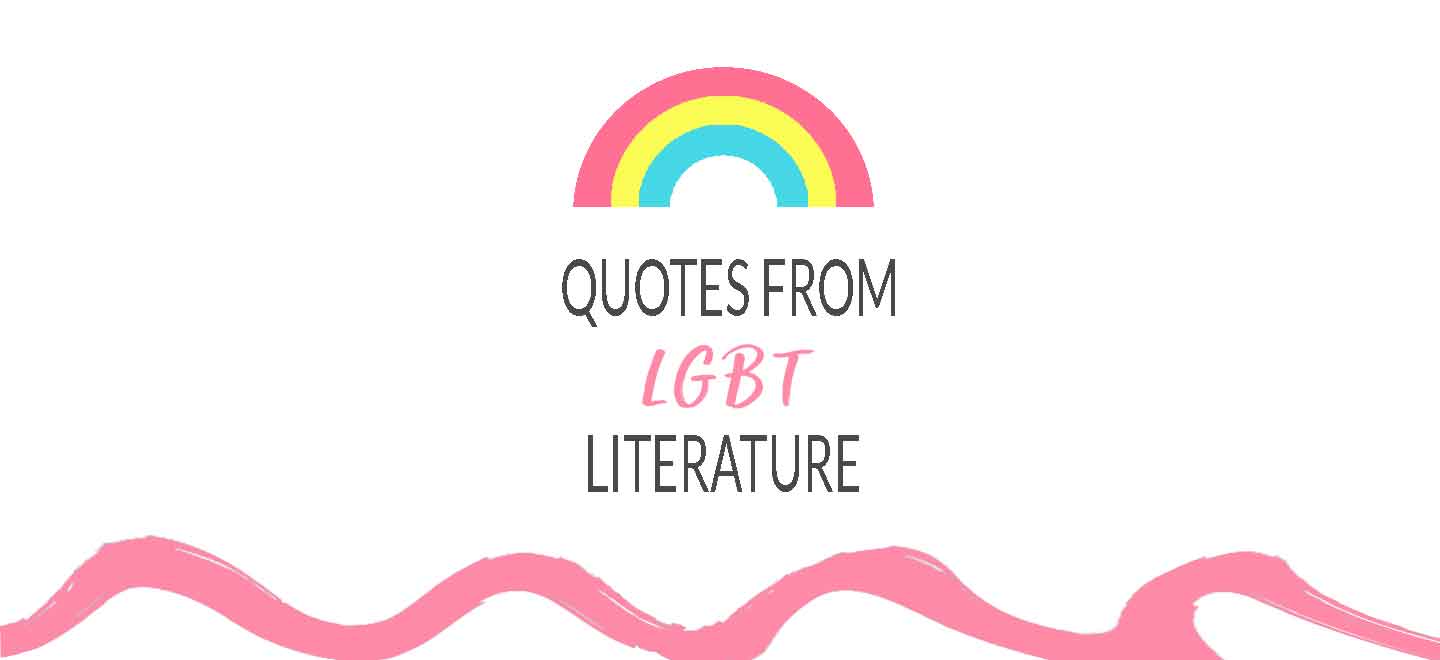 Romantic Wedding Quotes From Literature
Rubyfruit Jungle by Rita Mae Brown
"I began to wonder if girls could marry girls, because I was sure I wanted to marry Leota and look in her green eyes forever. But I would only marry her if I didn't have to do the housework. I was certain of that. But if Leota really didn't want to do it either, I guessed I'd do it. I'd do anything for Leota."
Keeping You A Secret by Julie Anne Peters
"Cut the ending. Revise the script. The man of my dreams is a girl."
Two Boys Kissing by David Levithan
"With some people, the minute you start talking, it feels like you've known them for years. It only means that you were supposed to meet sooner. You're feeling all the time you should have known each other, but didn't. That time still counts. You can definitely feel it."
Ash by Malinda Lo
"Then they took the last step together, and when she kissed her, her mouth was warm as summer, the taste of her sweet and clear, she knew, at last, she was home."
The Song of Achilles by Madeline Miller
"I will never leave him. It will be this always, for as long as he will let me. If I had had words to speak such a thing, I would have. But there were none that seemed big enough for it, to hold that swelling truth."
Maurice by E.M. Forster
"I think you're beautiful, the only beautiful person I've ever seen. I love your voice and everything to do with you, down to your clothes or the room you are sitting in. I adore you."
Giovanni's Room by James Baldwin
"Love him. Love him, and let him love you. Do you think anything else under this heaven really matters?"
Tipping the Velvet by Sarah Waters
"We fit together like the two halves of an oyster shell. I was Narcissus, embracing the pond in which I was about to drown. However much we had to hide our love, however guarded we had to be about our pleasure, I could not long be miserable about a thing so very sweet. Nor, in my gladness, could I quite believe that anyone would be anything but happy for me if only they knew."
Tales of the City by Armistead Maupin
"He'd buy a sofa and I'd buy a couple of chairs. One has to plan on divorce at all times… still it was a landmark of sorts. I'd never got to the furniture-buying stage before."
Annie on My Mind by Nancy Garden
"Have you ever felt really close to someone? So close that you can't understand why you and the other person have two separate bodies? Two separate skins?"
Call Me By Your Name by Andre Aciman
"If I could have him like this in my dreams every night of my life, I'd stake my entire life on dreams and be done with the rest."
Oranges Are Not the Only Fruit by Jeanette Winterson
"I want someone who is fierce and will love me until death and knows that love is as strong as death, and be on my side forever and ever. I want someone who will destroy and be destroyed by me."
Middlesex by Jeffrey Eugenides
"The essential matrimonial facts: that to be happy you have to find variety in repetition; that to go forward you have to go back to where you belong."
The Colour Purple by Alice Walker
"The more I wonder, the more I love."
Brideshead Revisited by Evelyn Waugh
"To know and love one other human being is the root of all wisdom."
Bonus
Here're two more we have close to our hearts.
"Two human loves make one divine."

Elizabeth Barrett Browning
"To infinity and beyond!"

Toy Story
Looking for something different?
We've also compiled a list with what we think are some of the best same-sex wedding readings, wedding speeches and wedding vows around. Find something that resonates with you: our selection of alternative wedding readings and poems may help.
Let us know if they help you when you're writing your beloved wedding quotes, or any share any wedding quotes you love with us.