Fashion's getting freer…
Now that gender's no longer as constrained as it was, designers are becoming open to less heteronormative conventions… even in the wedding world. So what's on offer for couples wishing for androgynous wedding attire? We take a look…
Jumpsuits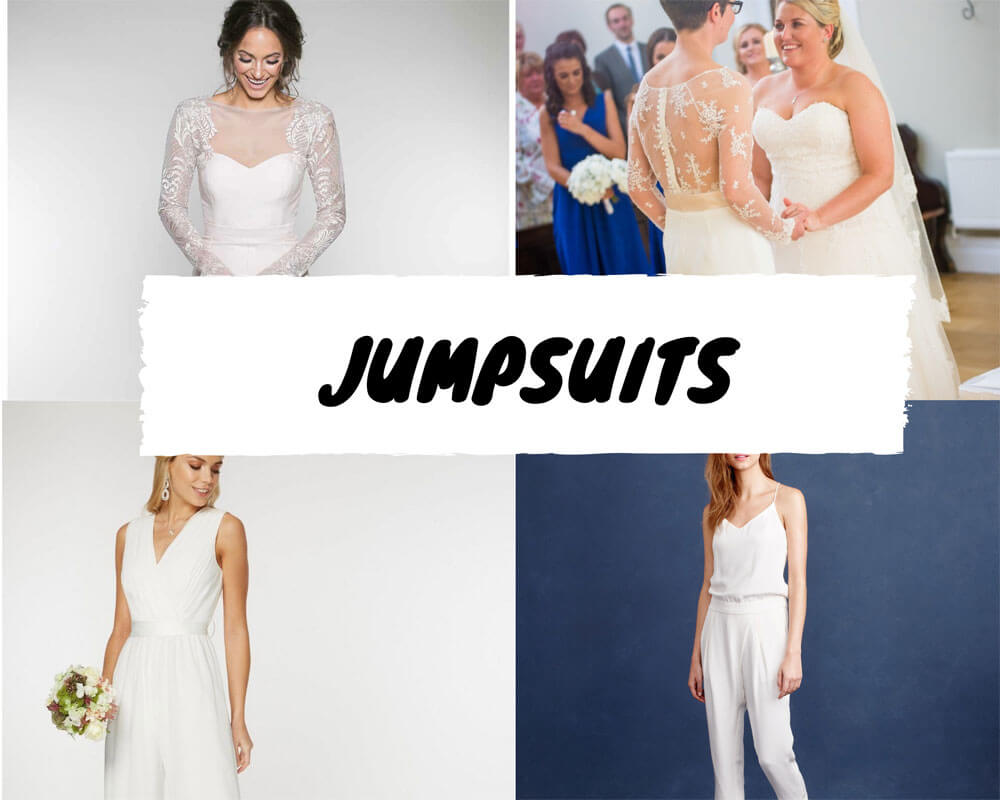 The jumpsuit is one of the simplest kinds of androgynous wedding wear for you to consider and its popularity is soaring. Not only can it double for a 'wedding dress' you can opt for a fitted lace-trim version to give it an extra feminine flavour, or go for one that's loose-fitting, yet not particularly masculine. Either way, they are fail safe comfortable pieces that are attractive and super easy to pull off.
Kilts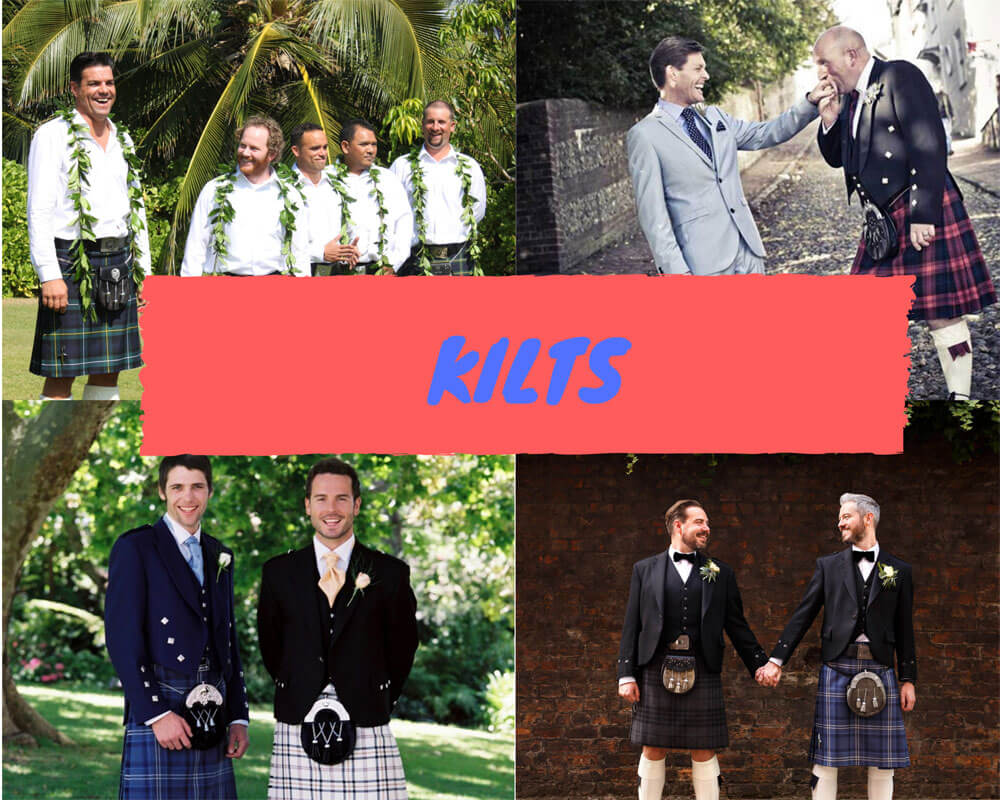 Traditionally worn by men, there's a certain androgyny to kilts that we love. Wear them to embrace your heritage by all means, but you can also style them in plenty of cool and interesting ways that you wouldn't be able to achieve with traditional suit or dress.
Punk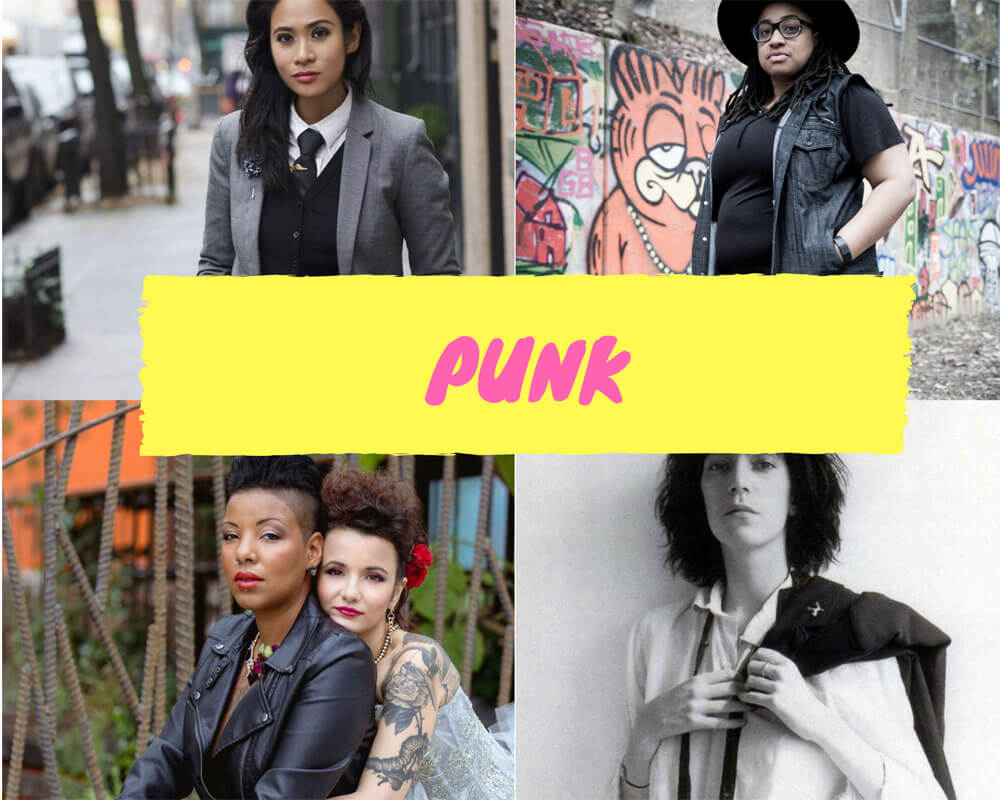 Androgynous clothing has its roots in punk, which has never associated itself with a particular gender. If you're not into virginal beauty and formal charm, punk is perfect for you. Plus, it oozes power, as demonstrated by those rocking the punk look above (including musical icon Patti Smith, bottom right).
Androgynous Suits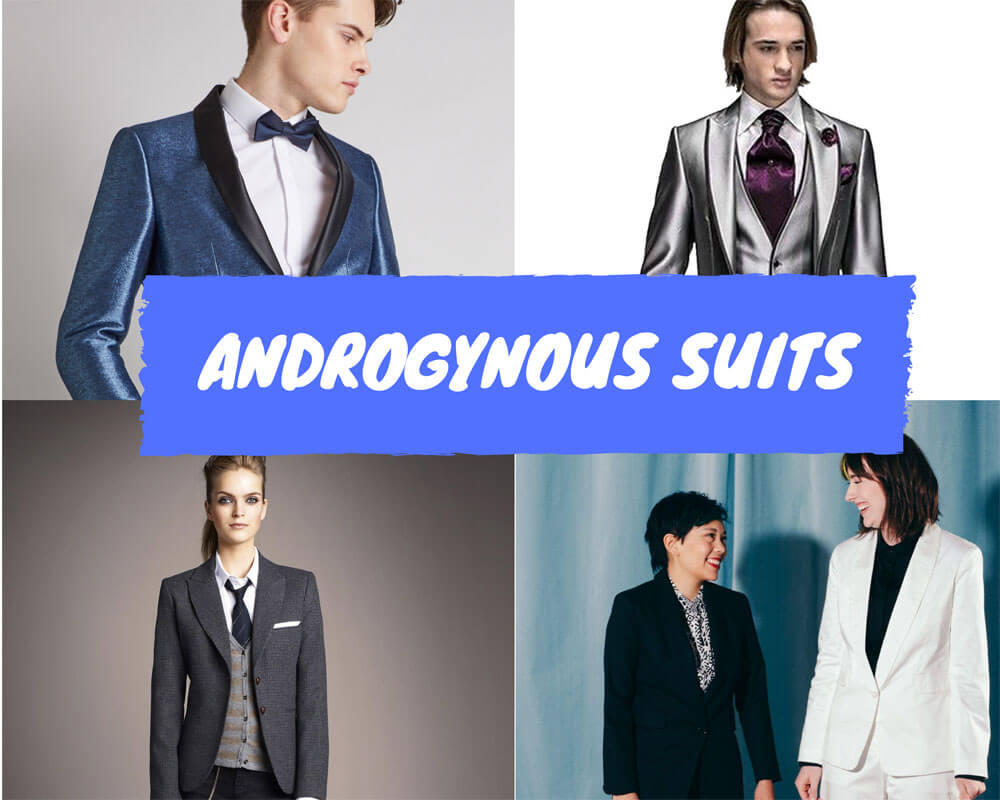 Slick up your look in a classic wedding suit – it's easy to make it can become androgynous if you make the right choices. Men should go for something standout different, like metallics, whilst women can embrace the Dynasty shoulder pads in a fitted figure hugging three piece or a loose, figure-hiding two piece.
Shorts Suit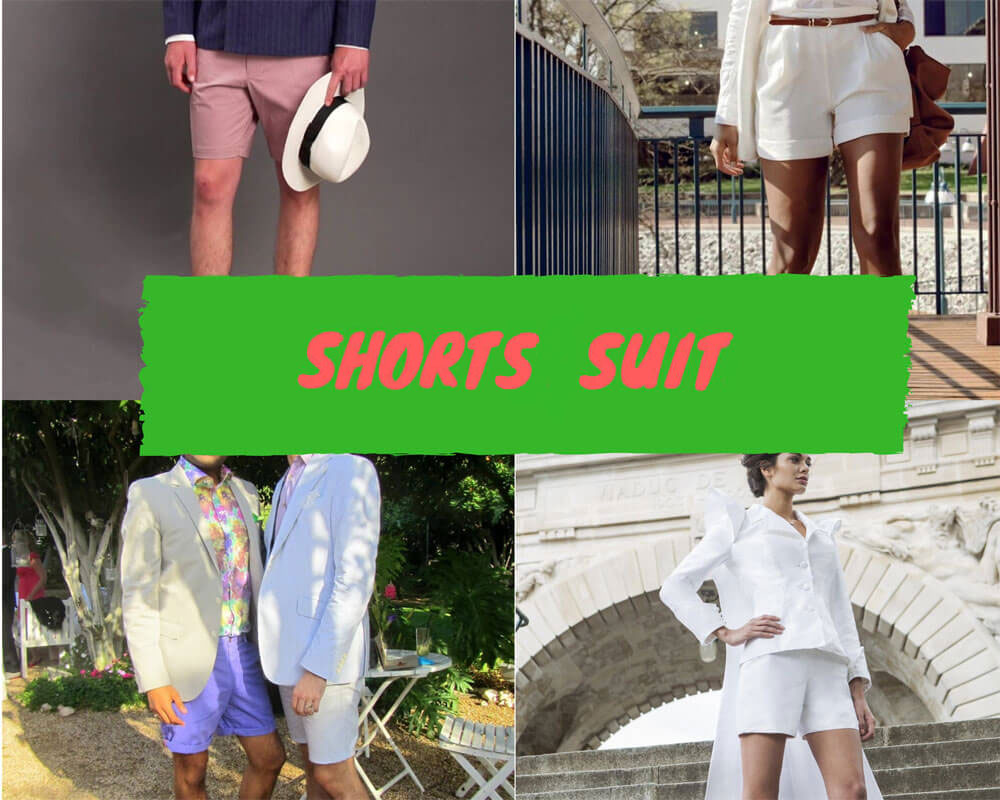 Finally, the shorts suit. Rather than searching for the middle ground between masculine and feminine attributes, the shorts suit combines extremes of the two. You have the loose, leg-baring shorts at the bottom and the smart, square-shouldered jacket at the top. It's masculine and feminine, formal and informal, all at the same time!
Final Thoughts
Matching suits and top hat 'n' tails?
Androgynous suits trends don't need to stick to convention.
Whilst some prefer to pick out a classic more and more are growing increasingly confident in handpicking a unique outfit based on current trends that reflect their own style tastes and personality and staying on trend by coordinating colours in mismatched tailored separates.
Monochromes, bolds, military greens and tweeds are all making an appearance with subtle flashes of statement-colours playfully showcased in footwear, bow ties and pocket squares.
Image Credits
Jumpsuits
Marks & Spencer suit
almaderock.org
Shorts suits via The Style Traveller
Suit by sperr.us
Moss Bros suit
Metallic suit via aliexpress.com
Ellie Belgique via Pinterest
Wildfang via Pinterest
Shorts Suit
Marks & Spencer suit
almaderock.org
Shorts suits via The Style Traveller
Suit by sperr.us
Androgynous Suits
Moss Bros suit
Metallic suit via aliexpress.com
Ellie Belgique via Pinterest
Wildfang via Pinterest
Shorts Suit
Marks & Spencer suit
almaderock.org
Shorts suits via The Style Traveller
Suit by sperr.us
Punk Suits
Androgynous Suits
Moss Bros suit
Metallic suit via aliexpress.com
Ellie Belgique via Pinterest
Wildfang via Pinterest
Shorts Suit
Marks & Spencer suit
almaderock.org
Shorts suits via The Style Traveller
Suit by sperr.us
Kilts
Punk Suits
Androgynous Suits
Moss Bros suit
Metallic suit via aliexpress.com
Ellie Belgique via Pinterest
Wildfang via Pinterest
Shorts Suit
Marks & Spencer suit
almaderock.org
Shorts suits via The Style Traveller
Suit by sperr.us