Planning a wedding isn't just about the flowers, the venue, and the playlist. There are seemingly hundreds of tiny details that you need to make decisions about as well.
These small details are often forgotten about until the last minute and therefore what makes the process of planning a wedding so stressful, so it's important that you plan ahead for them.
One of these details is the wedding hairstyles – for the bride herself and the bridesmaids as well, of course. The bride has to look her best on her wedding day – from the top of her head to the tips of her toes. So, one hairstyle won't fit every bride's aesthetic.
On top of having to find the perfect hairstyle to match your dress, veil, jewelry, and makeup, you also need to find the right hairstyle for your hair type.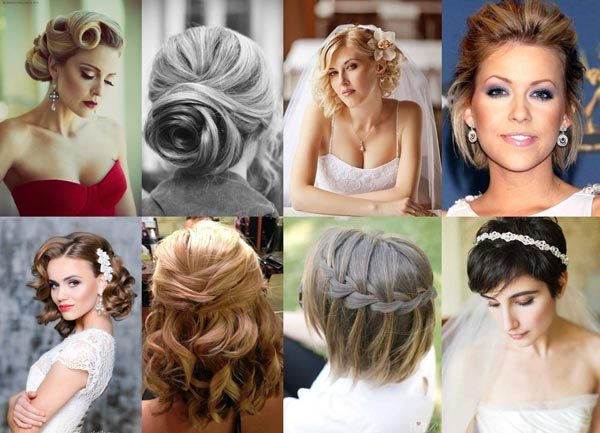 The majority of hairstyles you'll see online are only suitable for thick hair – but what about fine hair? If you'd prefer not to walk around all day with heavy extensions in, you need a hairstyle designed for fine hair.
So, we need a hairstyle suitable for fine hair, but it must go with the whole ensemble that you have planned out. We're here to help you, but we don't know what you're planning for your makeup or dress, so we've collated a number of different hairstyles so that you can make the final decision.
We've taken veils and headgear into account, as well as whether you want it up or down. An updo looks more timeless classic, but having your hair down is more manageable and leaves you free to dance to all night long. Have fun, and we hope you find your wedding hairstyle below!
Updo Wedding Hairstyles for Fine Hair
Low Bun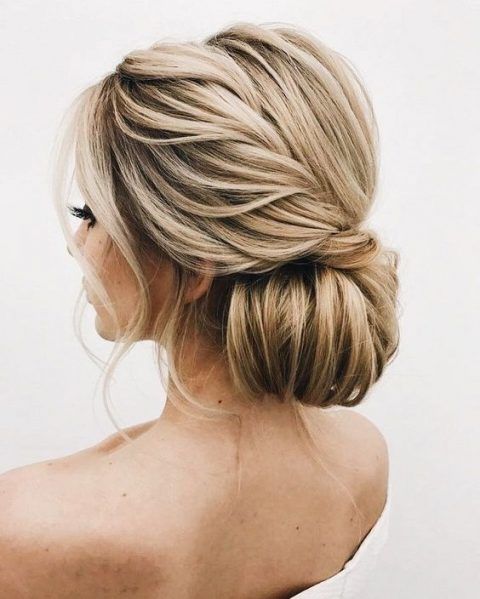 The low bun is one of the most popular wedding hairstyles for fine hair, and there are hundreds of tweaks and customizations that you can do to make the look your own.
First of all, curling your hair is always the best way to make your hair appear fuller without having to add anything to it.
Once your hair has been curled to your liking, you can twist and sweep your hair in all sorts of ways to achieve a gorgeous looking bun. Make sure that the hair isn't too slicked back, as this might take away from the voluminous effect that the curls had achieved.
Use a doughnut to create the bun, or simply twist it into a knot. Pull the bun from either side to make it appear larger and more voluptuous, and use pins to secure these pieces in place so that it doesn't look unfinished.
To make the bun your own, you can add braids leading into the bun, or perhaps twists that you can secure with pins. Just make sure that you cannot see the pins in the finished product!
Some brides enjoy adding small flowers or diamontes to this hairstyle to jazz it up a little and make it look even more extravagant but feel free to leave it alone if you're going for a simple look.
Can you wear a veil?
Yes! Low buns are perfect to wear under veils because they won't affect the natural flow of the fabric. Just make sure that you have no escaping pins sticking out from your hair that might snag your veil!
The Tuck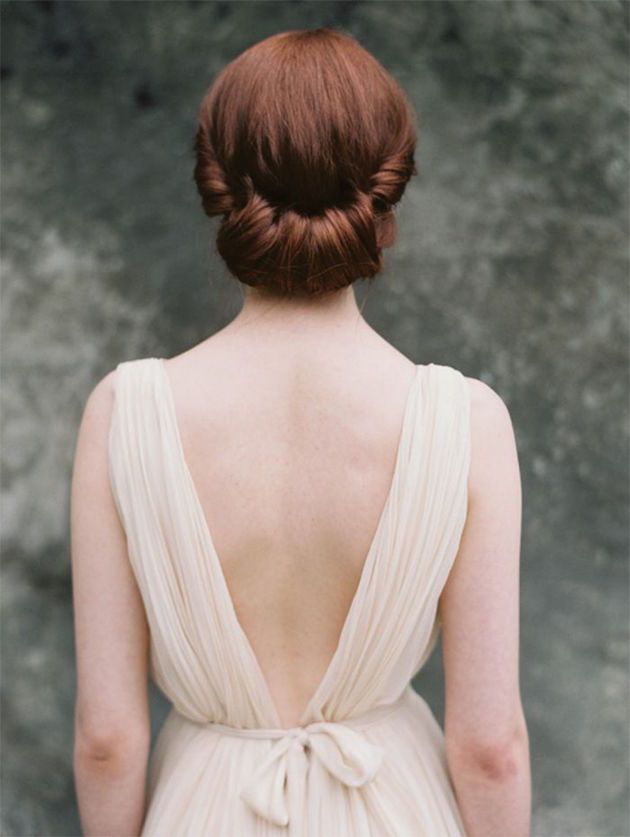 This hairstyle is ideal for fine hair because it gives you the appearance of fuller hair without having to do much whatsoever! Simply tease the top of your hair to ensure there is enough volume on the top of your head, and tuck the ends of your hair up and into itself.
We would advise you to tuck it towards the middle of your head so that a nice bowed effect is created.
Make sure that you secure the ends with enough pins that it doesn't become loose halfway through the day! Lightly pull the hair above the tucked section to create more volume.
The length of your hair will determine how large the tucked section can be – ideally, you'd want it to be as big as possible to offer the illusion of fuller and thicker hair.
A popular touch that a lot of brides like to do is add an embellished pin or clip to the hair, where all of your hair has been tucked into.
The clip will hide all of the pins and add another layer of style to your hair, so this is a great idea if you're worried about your pins coming loose or seen. The large clip will also help to keep your hair secure throughout the entire day.
Other brides enjoy the simplicity of a small flower in place of the large clip. This can be pinned in and makes the hairstyle look all the more impressive. Leave some small sections of hair out of the tucked updo to frame your face.
Although the rest of your hair shouldn't be curled for this hairstyle, you can curl the sections around your face.
Can you wear a veil?
Again, yes, you can wear a veil with this hairstyle! The hair shouldn't disturb the fabric at all; however, you might find that the veil covers the clip or flower that you've added to the center of the tucked hair.
For this reason, you might want to opt for a tiara rather than a veil so that all of your handiwork isn't covered and not seen.
French Braided Bun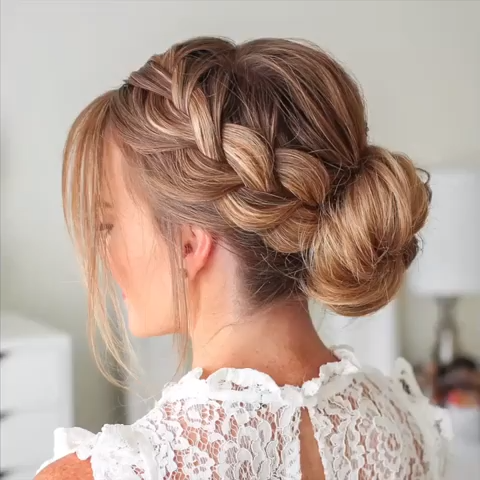 The French braided bun features a high bun with a French braid running from the base of your skull all the way up and into the bun. If you're feeling adventurous and want a challenge, this is a gorgeous hairstyle for fine hair.
Section your hair into two parts horizontally across your hair, with the bottom section ready to be braided. Take the top section and tie it up out of the way.
Flip your hair over and french braid the bottom section so it's running up towards the crown of your head. This is tricky and you'll be braiding your hair blindly, so don't be discouraged if it takes a few attempts to get it perfect.
Once you've finished the braid, tie it off with a small hair tie. Take the top section of hair and create a high bun. Wrap the end of the braid around the bun and secure it with some pins. Now pull out the sections of the braid as well as the bun to add the illusion of thickness to your hairstyle.
And voila! You'll be left with a high bun hairstyle with an amazing French braid twist!
Can you wear a veil?
The veil will cover the french braid, but you can certainly fix the veil to the base of the bun. The only issue with this is that if you wanted the veil to cover your face as well, it would have to lay over the top of the bun which would leave you with a bugling veil.
This is not what every bride wants, so it might not be the best option if you're hoping to have your face covered through the ceremony. However, if you don't plan on following this tradition, a veil at the base of the bun would compliment it perfectly.
Down Wedding Hairstyles for Fine Hair
Wavy or Curled Hair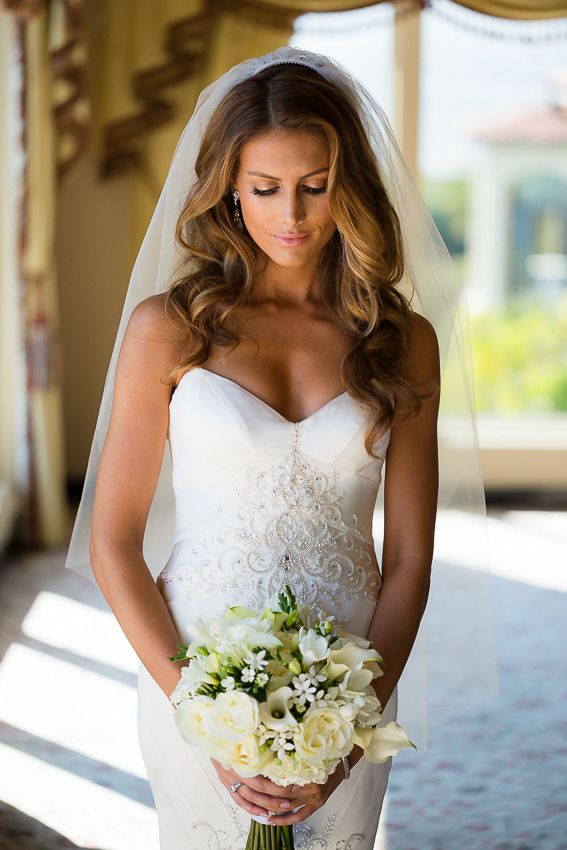 Curling your hair can add instant volume to fine hair, which is why it is such a popular hairstyle. You will hardly ever see a bride with straight hair because waves are much more timeless and they work with almost every wedding dress out there.
Curled and wavy hair can be then styled in a number of different ways. Curling the hair is simply getting the base ready for styling, and what you want to do next is up to you.
Below we'll discuss a few of the most popular things that you can do to curled hair to make it even more wedding-ready.
Leave it!
Some brides like to leave their hair completely down. This allows the hair to flow freely and you don't have to worry about anything coming loose or falling out from your hair.
Some people like to add gems or small flowers dotted around the hair, but these are more likely to fall out as there is not much to anchor them onto when the hair is left down.
Leaving your curled hair completely down is the best option for brides who don't want to worry about their hair all day and just want to have fun and dance. Loose hair will look the same throughout the day so there are no touchups required.
Half up, half down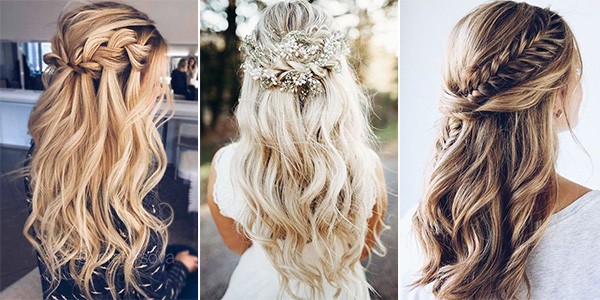 If you cannot decide between an updo and leaving your hair down, how about compromising and choosing a little bit of both! Half up, half down wedding hairstyles are very common and popular, and there are countless options for you to choose from!
Twist half of the hair from one side to the other and pin it at the side of your head, and hide the ends of your hair with a pin. Take half of your hair and secure it in a small bun at the back of your head.
Cross two sections of hair and pin them to either side of your head for one of the quickest and easiest wedding hairstyles. The possibilities are endless!
Half up, half down hairstyles are great for adding some dimension to your hair. You can pull and tweak then pinned hair to make it seem fuller to give the illusion of thicker hair.
This is a common trick of the trade and leaves you with excellent results every time. Add some small flowers around the pinned up section for the finishing touches.
Braids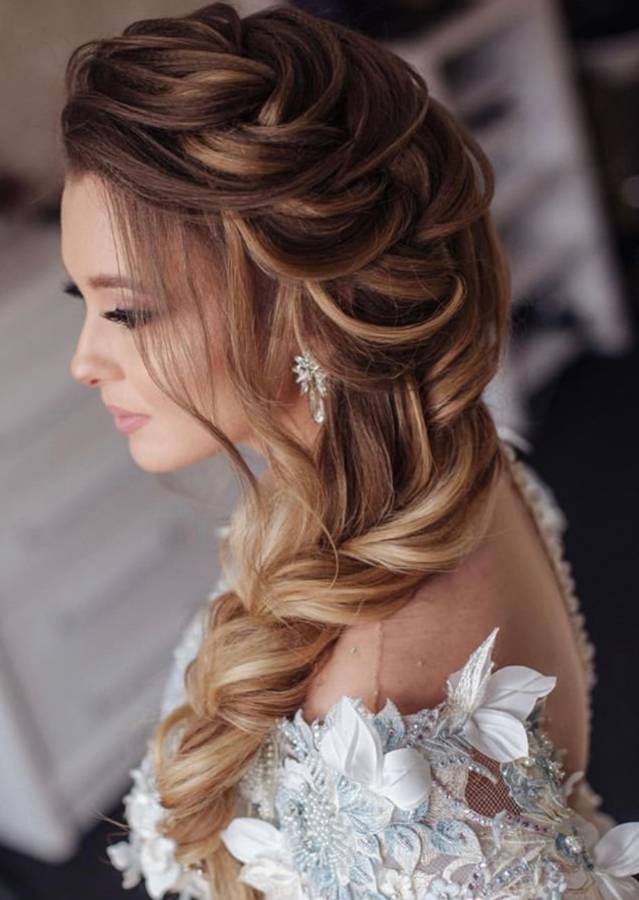 There is no denying that braids are gorgeous and take great skill to add to wedding hairstyles; however, not many brides braid their entire head for their wedding day.
Instead braids can be used for half up, half down hairstyles, or they can be added to sections of loose hair to make it look a little more presentable and sophisticated.
What makes braids so popular when it comes to wedding hairstyles of fine hair is that they can be manipulated easily to make them appear fuller and larger.
Once you braid the section of hair, you can pull at each section of the braid to create a splayed out effect of hair. To the untrained eye, this simply makes the braid look thicker, and therefore the hair looks thicker too.
Can you wear a veil?
The majority of down hairstyles allow you to use a veil with them, yes. The only exception to this is if you've positioned a bun or braid where the veil would usually sit at the top of the head.
If this is the case, we're certain that you could either reposition the hair to allow for the veil, or you could secure the veil below the hairstyle that you've created.
Straight Hair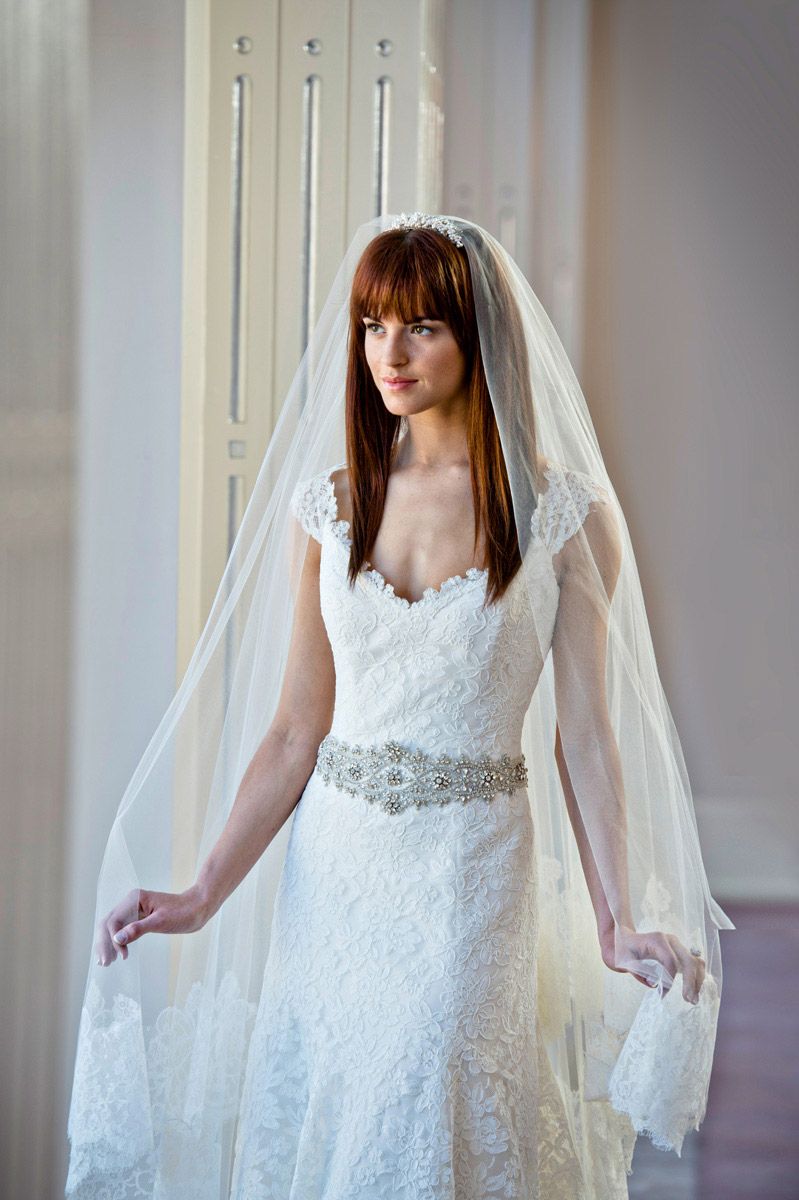 Finally, straight hair is one of the less popular choices for wedding hairstyles, but it is still a nice option if you want to go against the norm for your special day.
Fine hair tends to be accentuated when the hair is straight, but feel free to add volumizing products to counteract this.
A straight across chop of the hair will also make it look thicker, as the thinnest part of the hair is the ends. If you cut these off to leave a clean-cut look, you can make your hair seem much thicker than it actually is.
Can you wear a veil?
Yes, you can feel free to wear a veil as nothing is obstructing where the veil will be positioned. Straight hair might mean that the veil has an easier path of falling out of becoming loose, so make sure that you take extra care when teasing the hair where the veil will be attached.
Final Say
We hope that we've given you some helpful insight into the world of wedding hairstyles for fine hair. Just because your hair type is thinner, doesn't mean that you can't enjoy the popular hairstyles!
In fact, the majority of wedding hairstyles are designed to make your hair look thicker anyway. When in doubt, curl your hair for an instant boost of volume. Other than that, enjoy your wedding day!